Archives by date
You are browsing the site archives by date.
George2 Hacker (Johan Adam1) is another Hacker/Hocker family member I've had some difficulty finding information on. Johan George Hacker was the fifth son of Johan Adam and Maria Elisabetha (Weidman) Hacker. He was born 9 Oct 1766 and christened 12 Oct 1766 in the Emanuel Lutheran Church in Brickerville, sponsored by Lorenz Haushalter and wife… read more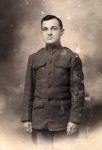 George Granville Hacker, son of Levi O. and Anna Mahala (Neis) Hacker, dressed in his World War I uniform. His WWI registration card states he was born Jan 23rd, 1891 in Lincoln, Pennsylvania. He was single and living in Philadelphia. The registrar's report states that Granville was short, of medium build, with brown eyes and… read more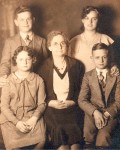 This photo of Jane (Martin) Hacker and her four children: Earl Martin and Anna Katherine (standing), and Miriam Grace and John Edwin (seated), was taken in the late 1920s. Jane's husband, John Norman Hacker, son of Levi O. and Anna Mahala (Neis) Hacker, died in 1925. Photo courtesy of Kim Hogarth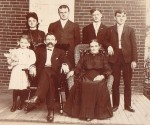 The Levi O. Hacker family, circa 1910. This time Miriam is included with the family, age 9, but apparently she could not stand perfectly still while the photo was being taken. Does that look like a teddy bear in her arms? From left to right: Miriam E., Annie Laura, Levi O., Harry Lincoln, John Norman,… read more
So, you may be asking yourself, what's with this site? What is all this stuff?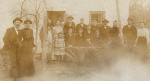 Another Witmer family group photo, probably taken at the family farm before 1912. Gertrude, the youngest Witmer child, was born in 1897. This photo may have been taken in 1904 to celebrate Edward & Lydia Witmer's 50th wedding anniversary. Left to right (adults): Henry and Lillian Snyder, Horace and Mary (Breish) Witmer, Lydia and Edward… read more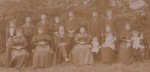 The Witmer family group shot, possibly the summer of 1894. I don't know if I can correctly identify everyone, but here goes… Left to right: (Standing) Lillian Witmer Snyder, Henry D. Snyder, Willoby Snyder, Cora (Gussman) Witmer, Milton K. Witmer, Horace K. Witmer, Wilmer Witmer (child), Milton B. Nace, Herbert W. Nace (child) (Sitting) Saraphine… read more
Wilmer Witmer, son of Horace K. and Mary A. (Breish) Witmer, was born 7 May 1892 and died Jan 1978 in Sellersville, Montgomery county, Pennsylvania. He married Clara Barndt sometime before 1922.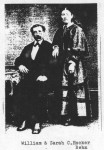 A photo of William and Sarah C. (Hocker) Behm. Sarah was the daughter of Johannes and Elizabeth (Henry) Hocker. She was born about 1843. The couple was known to be living in Dauphin borough about 1876, but I don't know anything more about them. If you do, please contact me. Photo courtesy of Elizabeth Hoke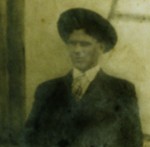 William M. Hoover, son of Samuel Thomas and Victoria (Walker) Hoover. Will was born 17 Apr 1890 in Pine Glen. He married Edith Mae Meeker, daughter of William Henry and Carrie Amanda (Force) Meeker.