Archives by date
You are browsing the site archives by date.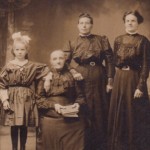 A family portrait of three unidentified women and a girl. They may belong to the Witmer, Greulich or Snyder families of Montgomery County, Pennsylvania. This photo was likely taken in the 1890s. If you can identify these ladies, please contact me!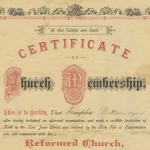 Saraphine Witmer's Reformed Church confirmation certificate from 14 Apr 1878.
In genealogical research we are told to "research the relatives, neighbors, and associates" of our family member in order to learn more about them and hopefully take our family line back another generation. However, when does an apparent series of coincidences become a connection?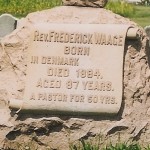 Gravestone image for Reverend Caius Frederic Sophus Waage (17 Aug 1797—23 Aug 1884) at St. Paul's Lutheran Church Cemetery, Pennsburg, Montgomery County, Pennsylvania
Jacob and Anna Maria (___) Hoover both died in German Township, Fayette County, Pennsylvania in 1800 and 1808, respectively. Their children can not be found in the township after 1816. Where did they go?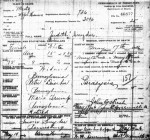 I just recently got the death certificate for the last of my direct ancestors who died after 1906—the year Pennsylvania started registering births and deaths at the state level, as opposed to the county level. Her name was Judith (Deysher) Snyder.
Researching an individual is particularly difficult when they have a common name. It is even more difficult if there is more than one person of the same name in the same general location at apparently the same time. Such is the case with Christian Hoover of Hempfield Township, Lancaster County.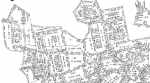 An examination of Martic Township, Lancaster County tax lists available for the years 1751 through 1772 shows the following Hoovers in the township.
Researchers have determined that somewhere between 1% and 4% of the human Eurasian genome is Neanderthal. It has always been believed that Homo Sapiens and Neanderthal were separate lines of descent from a common ancestor. So, how is it that we carry some of the same DNA? "The most likely explanation, say the researchers, is… read more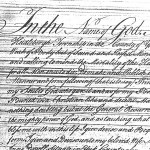 George Hoober of Mount Pleasant Township, York County, Pennsylvania signed his will on 21 Oct 1772; it was proven on 2 Feb 1775. He named his son John and friend George Fisher as his executors. In the document he also named his wife Barbara, daughter Barbara wife of Conrad Staly, and "my three grandchildren of Jacob Hoober Deceased." This is a transcription of the full will.