Archives by date
You are browsing the site archives by date.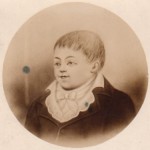 Caius Frederic Sophus Waage (aka Frederick) was born 17 Aug 1797 in Schleswig, Holstein, Denmark.[1] He studied at the University of Kiel in Germany and came to the United States in 1819.[2] The Biographical and Portrait Cyclopedia of Montgomery County Pennsylvania states about him: Frederick Waage (father) was born in the Dukedom of Holstein, Denmark,… read more
According to the marriage record I found for my ancestors James Smith and Isabella Aitken, they were married 25 Dec 1840 in Carnwath Parish, Lanarkshire, Scotland.[1] This couple has been very difficult to document. After much struggling, I managed to find them in Whitburn, Linlithgow, Scotland in the 1851 census, but hadn't been able to… read more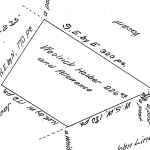 Last week's article for the "Along the Pequea" series, traced the land transactions of Hans Line's property. This week, we'll follow the transactions of his neighbor, Ulrich Huber.
NEW: Conestoga Township Warrantee Map index in the Online Documents section!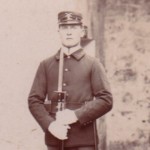 The next installment in the Unidentified Pennsylvanians series features a photo of a young man in uniform. He may have lived in the Montgomery County, Pennsylvania area and may have been either a friend of or related to either the Greulich, Wieder, Waage, Snyder, or Witmer families. The photo was likely taken in the early… read more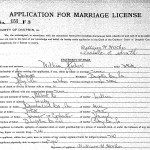 My great grandparents, William Hocker and Isabella Aitken Smith were married on 13 October 1914 in Harrisburg, Dauphin County, Pennsylvania. This is a transcription of their application for marriage license.
"Pennsylvania County Marriages, 1885-1950" @FamilySearch.org includes images from the marriage dockets from local courthouses. I've found some of my relatives, but not all of the records that I already have from the actual books.
About 1715 or 1716, Martin Kendig returned to Europe to convince other Mennonite families to come to Pennsylvania. On 22 November 1717, Martin Kendig & Co. (John Herr) were issued a warrant for 5,000 acres in Chester County. These 5,000 acres were surveyed in the following years to a number of immigrants in right of Kendig & Herr. This article includes a list of names and surveys and links to the online documents.
I found Elizabeth Shown Mills' Historic Pathways thanks to a post by Randy Seaver on Google+. Browsing her articles, I chose one almost randomly—"The Search for Margaret Ball"—and started reading. I was instantly engrossed. The search for Margaret Ball's origins was quite the mystery, the research enlightening. Of course, I had to go on and… read more
On 13 February 1805, the Martic Township school board included: Henry Bowman, Martin Huber, Benjamin Hart, Christian Musser, Daniel Herr, Martin Eshleman, Martin Huber (joiner), Isaac Herr, Joseph Bassler, Jacob Huber, Jacob Kochenauer, Henry Resh, John Kindig, Jacob Brubacher, John Winter, John Huber, John Huber Junr., Abram Kochenauer Senr., Abram Kochenauer Junr., George Hess, John… read more