Archives by date
You are browsing the site archives by date.
Announcing the release of my new book Marriage and Death Notices from the Harrisburg Chronicle, 1820-1834. This book is a follow-up and continuation of my previous book Marriage and Death Notices in Harrisburg Area Newspapers, 1835-1845.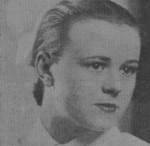 My great aunt Helen (Wieder) Kelly passed away Saturday, 16 July 2011, at age 94 years. She was the youngest daughter of Edwin J. and Mary Catharine (Waage) Wieder of Pennsburg, Pennsylvania.
Just the  other day I had reason to go looking for the articles I had written on my research on John and Jacob Hocker, sons of my ancestor Johan Adam and Sophia Maria (Hershey) Hocker. I wanted to send links to someone who had emailed me regarding another Jacob Hocker, son of Adam and Eve… read more
Jacob Hoover of Woodberry Township, Bedford County, Pennsylvania wrote his last will & testament on 10 Nov 1800. It was proved 2 Mar 1801.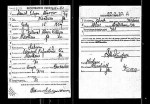 In honor of our nation's birthday, I thought I'd highlight a relative who'd served his country during wartime. Since I shared Daniel's gravestone photo last week, I thought I'd share his WWI draft card today. Although the image is small, you can see that his full name was Daniel Edgar Hoover and he lived in… read more