Archives by date
You are browsing the site archives by date.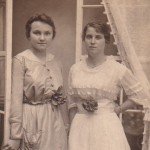 Starting this week I'm starting a new photo series—Unknown Pennsylvanians. Amongst the photos I inherited from my maternal grandparents were a whole slew of photos of people that no one in the family can identify. Since none of them are labeled with names, I'm going to post them in a gallery here on my website… read more
Horace Witmer, son of Edward J. and Lydia (Kline) Witmer, was born 21 Dec 1864 and died 5 Dec 1926. His wife, Mary A. C. (Breish) Witmer, was born 8 Jan 1870 and died 31 Mar 1944. They are buried in St. Paul's Lutheran Church Cemetery, Red Hill, Montgomery County, Pennsylvania.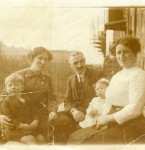 The back says: "Taken a week past Sunday when up. That is Roy [Rog] next door sitting on Crissie's knee" and also "Peter Chrissie May Jessie & a little boy that always with May."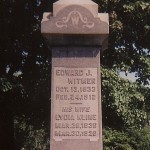 Edward J. Witmer, son of John and Rachel (Jones?) Witmer, was born in Quakertown 13 Oct 1833 and died near Finland 24 Jan 1912. His wife, Lydia Amanda (Kline) Witmer, daughter of Philip and Lydia (Markly) Kline, was born 26 Mar 1836 near Pennsburg and died 30 Mar 1926 in Red Hill.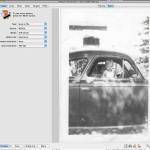 Years (and years and years) ago, I upgraded computers. In the transition, I changed the operating system I was using. After upgrading, I discovered that my scanner would no longer work. Canon, it's maker, was no longer supporting it with drivers that would work on my new OS. Bummer. We purchased an all-in-one printer-fax-copier-scanner that… read more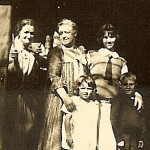 A photo taken at the Hocker hunting camp in Perry County, Pennsylvania circa 1924. I'm not completely certain of the folks in the photo, but I think it's—Isabella (Smith) Hocker, Lillian (Leedy) Hocker, unknown teenager [possibly Lillian or Ethel Allen], Anna Hocker, William Hocker, Bonnie Hocker and Betty Jean Hocker.

Philip Kline was born 6 March 1799 in Upper Hanover Township, Montgomery County, Pennsylvania. He died 30 January 1877 and was buried in St. Paul's Lutheran Church cemetery in Red Hill, Montgomery County, Pennsylvania. He married Lydia Markly on 17 February 1825 in Faulkner Swamp Church in Montgomery County, Pennsylvania.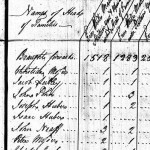 Census records are a valuable tool for the family historian. Do you know enough about them to use the effectively?
Many of you may know that I've been researching the Huber families of Lancaster County, Pennsylvania. I've been recently focusing on the early settlers along Pequea Creek in Conestoga, Martic, Lampeter and Strasburg townships. Census records have been one of the resources from which I've been compiling data. To my disappointment, the 1820 census for… read more
When we find a genealogical record we like to wring it dry of evidence, pulling every piece of information we can about our ancestor from it. However, we may miss some obvious clues if we don't understand some basic facts about that record. Michael Hait has posted an excellent article entitled "Five things you have… read more