Archives by date
You are browsing the site archives by date.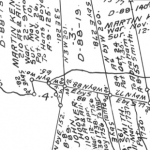 Jacob Huber was born circa 1698, and likely immigrated in 1717.[1] He appears on tax records for Conestoga Township, Chester County from 1718 through 1725, settling on Pequea Creek on a tract of land in Conestoga and Martic Townships (now Pequea and Providence) which adjoined Ulrich Huber's land. He warranted 105 acres.[2] It was surveyed… read more
I'm in the midst of rewriting the Hacker/Hocker family genealogy featuring the descendants of Christoph and Anna Margaretha (Jock) Hacker of Rußheim, Karlsruhe, Baden, Germany and Cocalico Township, Lancaster County, Pennsylvania. And I need your help!
On 22 November 1717, the Proprietaries of Pennsylvania warranted 5,000 acres to Martin Kendig and John Herr in then Conestoga, Chester County.[1]  I. Taylor surveyed 210 acres on the Pequea, adjoining Widow Hoober, Ulrich Hoober, and John Ffarrer, part of the 5,000 acres warranted to Martin Kendig and John Heer, to Hans Boyer on 10… read more
Do you know me? The next installment in the Unidentified Pennsylvanians series features a photo of a young woman. She may have lived in the Montgomery County, Pennsylvania area and may have been either a friend of or related to either the Greulich, Wieder, Waage, Snyder, or Witmer families. The photo was likely taken in… read more
I've been working on my Hacker/Hocker family book recently and am wondering what to do with the unconnected Hacker and Hocker families in my database. Here's a list of some of them…
After Johan "Hans" Adam Hacker died circa 1782 and the settling of his estate, several of his sons—Johannes, Christopher, Johan Adam Jr., Martin, and perhaps for a time, Johan George—left Lancaster County and came to Harrisburg. The earliest record of them in the city is a mention of the Adam Hocker tavern in the 1787… read more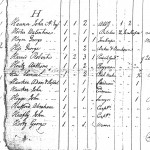 The 1792 tax valuations from Harrisburg, Pennsylvania for Adam, Christopher and John Hocker, three of the sons of Johan Adam Hacker of Lancaster County, Pennsylvania.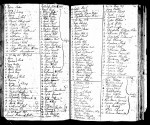 Recently, I've been updating and revising my great uncle William Wingeard's A German-American Hacker-Hocker Genealogy. In the first edition, Bill did not include any information on Johan "Hans" Adam Hacker's son Johan George (1766-1846). Fortunately, I have found some new information on him.