Archives by date
You are browsing the site archives by date.
I've been using the "York County, Pennsylvania Orphans Court Records index, 1749-1840" in researching the families associated with Ulrich Hoover of Adams and York counties. Since I've had to go back several times, I've been bookmarking the start of surname starting letter sections as I use them. Randy Seaver suggested in one of his Follow-up… read more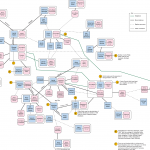 Creating a diagram to visualize connections between associates of Ulrich Hoover provided insight into the relationships between those people, helped point my research in a new direction, and answered some of my questions along the way.