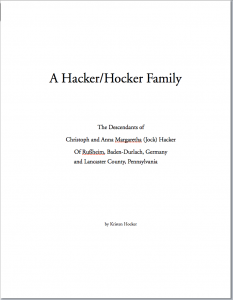 When I began this project I imagined I would be re-creating my great uncle William Wingeard's manuscript for A German-American Hacker-Hocker Genealogy and publishing it in a second volume. However, the more I got into the project, the more I learned about the practice of genealogy, the more I wanted to strengthen Bill's work by including footnotes and sources and formatting it in line with accepted genealogical standards. What seemed a simple task has expanded into years of research into an ever-expanding family.
In order finally bring this book to publication, I decided to limit its scope to the first four generations of the descendants of Christoph and Anna Margaretha (Jock) Hacker. Families that I have compiled information on, but cannot place into the family tree will be included in the Appendices.
I currently plan to make the book available in multiple formats—both printed, PDF and ebook.
If you have family information or photos you'd like to see included in the book or questions about the book, please get in touch. I'd love to hear from you!
---
The book will be following the descendants of:
Johan Michael and Christina (Hacker) Lang (Long)

Johan Wilhelm and Anna Christina (Long) Stober*
Johan Michael Long Jr.

Johan "Hans" Adam and Maria Elisabetha (Weidman) Hacker

Frederick and Catharina (Fuchs) Hacker*
Johannes and Eva Catharina (Scholl) Hacker*
Christoper and Catharina (Mueller) Hocker*
Henry and Christianna (Hacker) Fetter (Vetter/Feather)
Johan Adam and Sophia Maria (Hershey) Hocker Jr.*
Johan George and Christina (Mueller) Hacker*
Martin and Christiana (Beinhauer) Hocker and Barbara (Smith) Hocker
Johannes and Elizabeth (Hacker) Laber*
Jacob and Elizabeth (___) Hocker*

Lorentz and Anna Margaretha (Hacker) Haushalter (Householder)

Nicholas and Margaretha (Haushalter) Vogelgesang (Fogelgesang/Fogelsang)*
Frederick and Barbara (Haushalter) Adam
Johan George and Catharina (Haushalter) Stober
Michael and Maria Elisabetha (Haushalter) Petz
George and Susanna (Haushalter) Scherb

Johan George and Anna Margaretha (Weidman) Hacker

Johan George and Mary (Kittinger/Killinger) Hocker Jr.*
Johannes and Elisabeth (Mason) Hocker
Martin and Ann (Mason) Hocker*
Johan Adam and Ann (Dillet) Hocker
Henry and Elizabeth (Hocker) Scheetz
Johan Wilhelm and Margarethe (Hocker) Cress
Christopher and Catherine (Daub) Hocker*
Jacob and Sarah (___) Hocker*
* New/corrected information