Caius Frederic Sophus Waage (aka Frederick) was born 17 Aug 1797 in Schleswig, Holstein, Denmark.1 He was the son of Claus Heinrich Waage and Catharina Dorothea Hoffmeister.2 He was baptized 20 Aug 1797 and sponsored by General and Baron Cay von Ahlefeldt, Ernestine von Brokdorf, wife of the Private Counsellor, and the nobel lady Anna Sophia von Ranzau auf Güldenstein.3 On 7 April 1813, he was confirmed in the Lutheran faith at the Marienkirche (St. Mary's Church) in Flensburg in Schleswig.
He studied at the University of Kiel in Germany for six years, starting at age 16, and came to the United States in 1819.4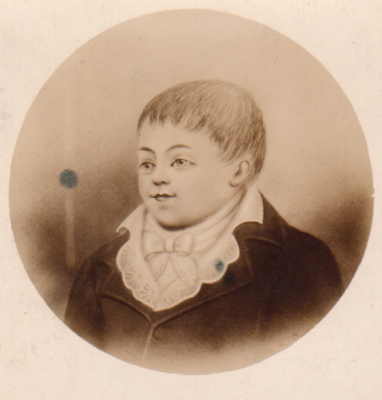 Once in the United States, Frederick became a minister, becoming a licentiate on 27 Aug 1822 and ordained on 10 Jun 1828.5 He served congregations in Bucks, Northumberland, Columbia and Lycoming counties before finally receiving charge of St. Luke's Lutheran Church outside Pennsburg, Montgomery County, Pennsylvania as well as five other local churches—including New Goshenhoppen Lutheran Church outside East Greenville—on 12 May 1829. He served there until 1870 when he was succeeded by his son Rev. Oswin Frederick Waage.
Frederick was a pioneer practitioner of homeopathy in northern Montgomery County. Although he was not formerly educated in the practice, he studied the literature and obtained the remedies to attend to the welfare of his family. When his parishoners heard, they appealed to him "to give them the benefit of his skill."6
Frederick Waage married about 1823 Angelina Garber. She was born about 1806 at Trappe, Montgomery County, Pennsylvania, daughter of Benjamin and Hannah (Reiner) Garber.7
Rev. Frederick Waage died on 23 Aug 1884, at the age of eighty-seven years. He was buried on 27 Aug 1884 in the cemetery at St. Paul's in Pennsburg with many honors. Angelina (Garber) Waage died in 1897 and was buried with her husband.
Frederick and Angelina (Garber) Waage had children:
Johanna "Hannah" Waage

was born ca 1825 and died bef 1890.
Dr. Charles Theodore Waage was born 22 Oct 1827 in Milton, Northumberland County, Pennsylvania and died 6 Mar 1921 in Pennsburg, Montgomery County, Pennsylvania. He married twice, first to

Mary Ann Heisler

. The couple had four children: Ida (1854-bef 1890), Emma Josephine (1856-1869), Eugene H. (1860-aft 1930), and Charles Frederick (1862-1863). He married second Lydia S. Eshbach, daughter of Henry M. and Catherine Lydia (Bobb) Eshbach. The couple had one child: Mary Catharine (1877-1970), my great grandmother.

Angeline Waage

married about 1850 

Dr. Edwin Beiber

. They had at least one child: Emma (c1854-?).

Emma Waage

was born ca 1833 in Pennsylvania and died bef 1867, most likely in Minnesota. She married

Charles Duncan Gilfillan.

Anndora S. Waage

was born ca 1836 in Pennsylvania. She married 28 Nov 1865 in St. Paul, Minnesota, William K.

 Gaston

. The couple had at least three children: Frederick Waage (1869-?), Martha (1870-bef 1880), and Hugh P. (1872-1964).

Theodora Rosalie Waage

was born in Nov 1839. She married

Isaac Yeakel Krauss

on 8 Oct 1861. The couple had children: Nevin (ca1862-?), Elmer Frederick (1862-aft 1904), Florence Sarah (1864-Jan 1917), Edgar Anthony (1867-?), Charles Oswin (1869-?), and Isaac Walter (1878-1933).

Franciska S. Waage

was born ca 1842/4. She married

Charles Duncan Gilfillan

after her older sister, Emma's death. The couple had children: Emma K. (ca1868-?), Fannie S. (ca1871-1938), Charles O. (1872-1962), and Fred James (1874-?).

Oswin Frederick Waage

was born 4 Feb 1845 and died 7 Aug 1919 in Pennsburg, Montgomery County, Pennsylvania. He married 22 Jun 1869

Hannah Young Schelly

, daughter of Dr. Joel Y. and Hannah (Young) Schelly. The couple had a son Frederick Oswin Waage on 26 Oct 1877. A doctor, he died at Fort Bliss, Texas during the influenza epidemic in 1918.

Atha "Addie" Waage

was born 26 Apr 1847 and died 5 Oct 1928 in Pennsylvania. She was a teacher.

Edwin Eugene Waage

was born 13 Sep 1849 and died 23 Sep 1854 in Pennsylvania.