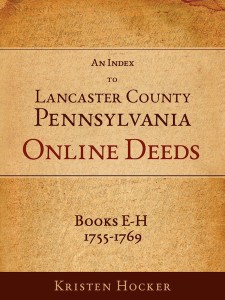 Land was wealth to our ancestors. The deed—a record of the transfer of land—can be a genealogical goldmine to the genealogist. Not only does it put a person in a specific place at a specific time, it can identify relationships between buyer, seller, and sometimes previous owners; name spouses, occupations, and neighbors; and provide hints regarding the affluence or poverty of those involved.
Lancaster County, Pennsylvania was known as America's Garden Spot or Pennsylvania Dutch Country. It was one of the earliest areas settled areas in Pennsylvania. It was founded officially in 1729, though parts of it were settled as early as 1710. The county's original boundaries included the present-day counties of Berks, Cumberland, Dauphin, Lebanon, Northumberland, and York. Original settlers included not only the English, but also Germans, Scotch-Irish, and French traders, as well.
Digital images of Lancaster County deeds from 1729 through 1986 are available online through the county's Recorder of Deeds. However, only those from 1981 onwards are searchable. This book provides a full-name index to buyer (grantor) and seller (grantee) for deed books E through H which cover the period 1755 through 1769. Each index listing includes the names of grantor and grantee, the book, the date the deed was written, the date it was recorded, and both page number and online image number for easy access to the correct entry.
Part of Lancaster County PA Online Deeds
series. Available in
eBook, Kindle, Paperback, Print
formats.