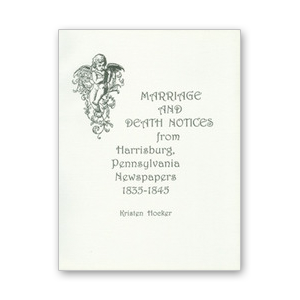 At a time when marriages and deaths were not required to be recorded at the state or county level, newspapers can prove a valuable source for information on these events. This book includes extractions of marriage and death notices from multiple Harrisburg, Pennsylvania area newspapers published between 1835 and 1845.
In 1830, there were eleven newspapers in print in Harrisburg. This book contains marriage and death notices, including some obituaries, as reported in four of those Harrisburg area newspapers from 1835 through 1845. Issues used as source material in compiling this volume include: the Democratic State Journal, the Keystone, the State Capital Gazette, and the Democratic Union. Other newspapers from within Pennsylvania and other states were often quoted, as newspapers passed information from one area to another. It includes an every name index.
ISBN# 1-558-56402-0
Pages: 322 pages
Binding: Softbound
Interior Ink: Black & white
Dimensions: 8.5″ X 11″
Available in
Paperback, Print
formats.