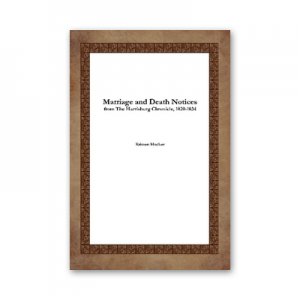 Newspapers can be an invaluable source of historical information to put our ancestors' lives in context. But they can also provide direct content, such as BDM—birth, death, and marriage—dates, about our ancestors, too. I have found casual, social news about family, marriage announcements, death announcements, and obituaries in newspapers where they lived during the 19th century.
I have compiled marriage and death notices for the central Pennsylvania area from the Harrisburg Chronicle newspaper from March 1820 through March 1834 into a book that is available as both a print book and and ebook. It's a useful resource for the family genealogist with ancestors who lived in Dauphin or the surrounding counties in the very early 1800s. It includes an every name index in the print version.
ISBN# 978-1-257-93075-3
Pages: 236
Binding: Perfect-bound Paperback
Interior Ink: Black & white
Dimensions (inches): 6.0 wide × 9.0 tall
ISBN-13: 9781312978898
Available in
eBook, ePub, Kindle, Paperback, PDF, Print
formats.