Documents
Category for all published documents
This is a transcription of the John Jacob Hoober's patent for 210 acres situate on the southside of Pequea Creek in present-day Providence Township. Jacob Hoober received a warrant for the tract 24 Jan 1733. It was surveyed to him on 28 Jan 1733.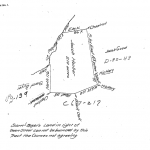 After a warrant is issued, the Surveyor General directed one of their surveyors to make and return a survey of the requested tract. Jacob Hoober's warrant was issued 24 Jan 1733. On 28 Jan 1733 a survey was made of 210 acres in present-day Providence Township, then part of Martic Township. This is Jacob Hoober's survey.
Having written about how to use the online land records at the Pennsylvania State Archives, it's only fair that I provide examples of what each document entails. This example features the 1733 land warrant of Jacob Hoober for 210 acres on Pequea Creek. This piece of property sits south of Pequea Creek in present-day Providence Township.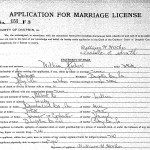 My great grandparents, William Hocker and Isabella Aitken Smith were married on 13 October 1914 in Harrisburg, Dauphin County, Pennsylvania. This is a transcription of their application for marriage license.
I've been trying to get the Trinity Lutheran Church Records, volumes 1-4, through ILL for some time now with mixed results. So, imagine how pleased I was to find some of the records online in the Internet Archive. The Pennsylvania-German Society published their Proceedings and Addresses in the 1890s. Several volumes included records from Trinity… read more
Jacob Hoover of Woodberry Township, Bedford County, Pennsylvania wrote his last will & testament on 10 Nov 1800. It was proved 2 Mar 1801.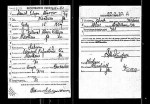 In honor of our nation's birthday, I thought I'd highlight a relative who'd served his country during wartime. Since I shared Daniel's gravestone photo last week, I thought I'd share his WWI draft card today. Although the image is small, you can see that his full name was Daniel Edgar Hoover and he lived in… read more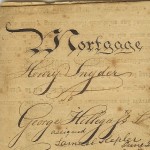 Among my grandfather's papers, I found the original document of a mortgage between Henry Snyder and George Hillegas for 62 acres 40 perches in Upper Hanover Township, Montgomery County, Pennsylvania. The document was dated 17 Aug 1830!
I've recently blogged about my quest to find out more about Christian Hoover of Heidelberg Township, York County, Pennsylvania and the brothers he named in his 1771 last will and testament: Jacob, Ulrich and Henry. Looking for more information, I requested his widow's estate file. And now I'm all out of ideas…
Christian Hoover of Heidelberg Township, York County, Pennsylvania died in 1771. An inventory was taken on his goods and chattels on 19 Mar 1771. Here is a transcript: "An Inventory of the Goods and Chattles of Christian Hoover late of Heidlebergh Township Deceased Taken this 19th Day of March 1771 and appraised by John Shank… read more