Documents
Category for all published documents
Jacob Hoover of Woodberry Township, Bedford County, Pennsylvania wrote his last will & testament on 10 Nov 1800. It was proved 2 Mar 1801.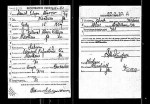 In honor of our nation's birthday, I thought I'd highlight a relative who'd served his country during wartime. Since I shared Daniel's gravestone photo last week, I thought I'd share his WWI draft card today. Although the image is small, you can see that his full name was Daniel Edgar Hoover and he lived in… read more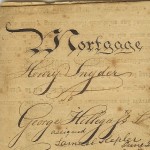 Among my grandfather's papers, I found the original document of a mortgage between Henry Snyder and George Hillegas for 62 acres 40 perches in Upper Hanover Township, Montgomery County, Pennsylvania. The document was dated 17 Aug 1830!
I've recently blogged about my quest to find out more about Christian Hoover of Heidelberg Township, York County, Pennsylvania and the brothers he named in his 1771 last will and testament: Jacob, Ulrich and Henry. Looking for more information, I requested his widow's estate file. And now I'm all out of ideas…
Christian Hoover of Heidelberg Township, York County, Pennsylvania died in 1771. An inventory was taken on his goods and chattels on 19 Mar 1771. Here is a transcript: "An Inventory of the Goods and Chattles of Christian Hoover late of Heidlebergh Township Deceased Taken this 19th Day of March 1771 and appraised by John Shank… read more
During a visit to the Pennsylvania State Archives, I made copies of Huber/Hoover wills up through the early 1800s. I've transcribed some of those wills and posted them on this site. I also abstracted a number of Huber/Hoover wills which are posted here.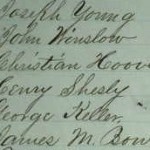 Years ago I found reference to a Christian Hoover of Gaskill Township, Jefferson County, Pennsylvania who was drafted along with Augustus Kinter and Samuel T. Hoover during the Civil War. I've always wondered if this were my ancestor Christian Hoover. Today, I may have found my answer.
I've added two new indices to the warrantee maps for Strasburg and West Lampeter townships in Lancaster County, Pennsylvania.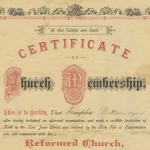 Saraphine Witmer's Reformed Church confirmation certificate from 14 Apr 1878.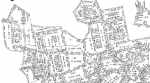 An examination of Martic Township, Lancaster County tax lists available for the years 1751 through 1772 shows the following Hoovers in the township.