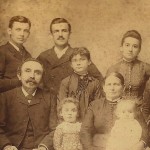 Today's photo is the Charles and Caroline (Wolf) Greulich family of East Greenville, Montgomery County, Pennsylvania. The photo was taken circa 1887.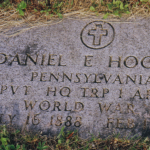 A gravestone photo of Daniel Edgar Hoover, only son of Reuben and Emma (Coleburn) Hoover, of Karthuas, Clearfield County, Pennsylvania, was born 16 Jul 1887 and died 11 Feb 1966. He was buried in the Oak Hill Cemetery in Oak Hill, Karthaus Township, Clearfield County, Pennsylvania. Daniel served during World World I.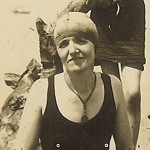 In honor of summer a family photo at the beach.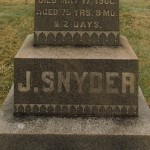 A gravestone for Joseph Snyder and his wife Judith Deisher of Montgomery County, Pennsylvania. Joseph was born 2 Jan 1826 in either Germany or Pennsylvania and died 4 Nov 1895 in Montgomery County, Pennsylvania. He married circa 1855 Judith Deisher, daughter of Peter Deisher and Maria Trump. She was born 15 Aug 1830 in Pennsylvania… read more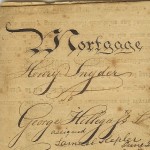 Among my grandfather's papers, I found the original document of a mortgage between Henry Snyder and George Hillegas for 62 acres 40 perches in Upper Hanover Township, Montgomery County, Pennsylvania. The document was dated 17 Aug 1830!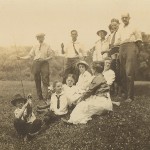 Fishing has always been a favorite pastime in my family. Both my Dad and Uncle Bill love to fish. My grandfather used to take us girls out fishing. This photo shows it's been a family favorite for at one additional generation. The photo is not labelled—big surprise—but I believe the man standing in the center… read more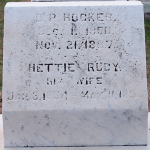 Dr. David R. Hocker, son of Adam and Eve (Hamaker) Hocker, was born 1 Dec 1850 and died 21 Nov 1887. He was buried in Shoop's Cemetery, Lower Paxton Township, Dauphin County, Pennsylvania. He married 4 Feb 1876 in Shoop's Reformed Church Hettie Esther Rudy, daughter of Joseph Frederick and Hettie (Landis) Rudy. She was… read more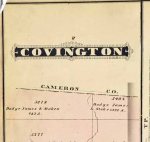 One of the difficulties in researching Christian Hoover has been trying to find the location of his property. Through family stories, I know he lived in Clearfield County—either Covington or Karthaus townships. But where was it really?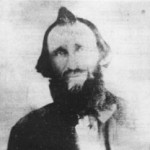 Christian Hoover, the man who inspired all my Hoover family research.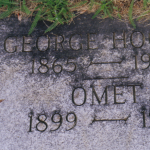 George Hoover, youngest son of Christian and Caroline (Kinnard) Hoover, was born 14 Apr 1865 in Jefferson County, Pennsylvania, and died 19 Jan 1930 in Sterling Run, Lumber Township, Cameron County, Pennsylvania of a stroke. He married about 1898 Anna Meade. The couple had one child, a son, Omet who was born in Jan 1899… read more