Prior to her 1914 marriage, my great grandmother, Isabella Smith, worked for the telephone company in Harrisburg. This photo was labelled the "telephone girls."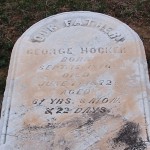 George Hocker, son of George and Elizabeth (Hassler) Hocker, was born 15 Sep 1810 and died 7 Jun 1872, possibly of typhoid fever. He was buried in Shoop's Cemetery, Lower Paxton Township, Dauphin County, Pennsylvania. He married circa 1832 Mary "Polly" Brubaker, daughter of Peter and Anna (Hershberger) Brubaker.
My Force family connection is through Jefferson Force (aka Forcey). He was born 9 Dec 1833 in Centre County, Pennsylvania and died 20 Oct 1910 in Burnside Township, Centre County, Pennsylvania. He was buried in Advent Cemetery in Pine Glen. When his wife, Susan (Mulhollan) Force, provided information for his death certificate, she did not know the names of his parents, nor where they were born. To this day, it's still a mystery. One I'd really love to solve!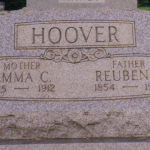 Reuben Hart Hoover, eldest son of Christian and Caroline (Kinnard) Hoover was born in 1854, probably in Jefferson County, Pennsylvania, and died 5 Mar 1900 of consumption. He married about 1875 Emma Clara Coleburn, born Mar 1845 and died 12 Sep 1912. They are both buried in Oak Hill Cemetery, Karthaus Township, Clearfield County, Pennsylvania…. read more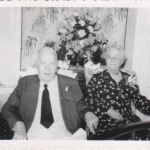 In honor of my great-grandparents wedding anniversary next Tuesday, April 19th…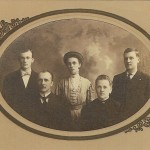 A family portrait of the Emanuel J. Wieder family of Pennsburg, Pennsylvania, circa 1905.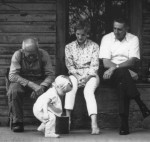 Here's a photo of 3 generations: Clyde Hoover, his son-in-law, grand-daughter-in-law, and great grand-daughter Kris Hocker (yeah, that's me!), circa 1971.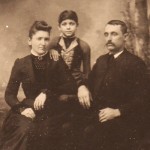 A portrait of the Henry D. Snyder family of East Greenville, Pennsylvania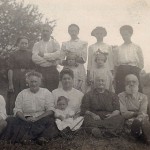 It's amazing what you find when you go looking. I was rescanning some photos that are already on the site and came across this photo and several others that were obviously taken on the same day.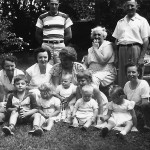 A Hocker family photo taken of the Will and Isabella (Smith) Hocker family at their home on 17 Aug 1950. It includes all their children and grandchildren.