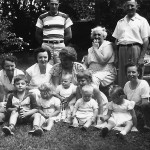 A Hocker family photo taken of the Will and Isabella (Smith) Hocker family at their home on 17 Aug 1950. It includes all their children and grandchildren.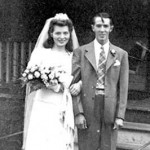 Today's Fearless Females entry is about how my parents, and grandparents met and married.
Today's Fearless Females entry is about the marriages of my great grandparents: Elmer and Lillian (Snyder) Greulich, Edwin and Mary (Waage) Wieder, Will and Isabella (Smith) Hocker, and Clyde and Nora (Houdeshell) Hoover.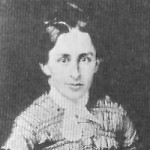 I've always been told that I was named after a German actress. So, I've never had any expectation that it was a family name. Until my family moved to New England when I was 10, I'd never even met anyone with the first name Kristen and even then it was more often spelled Kristin. There… read more
157 years ago Edward J. Witmer, son of John and Rachael (Jones) Witmer, married Lydia Amanda Kline, daughter of Philip and Lydia (Markly) Kline.
I received an email a while back from a woman who was looking for information on a Jacob Hoover of Maryland and wondered if we were related. The short answer is "Yes," but not as initially thought.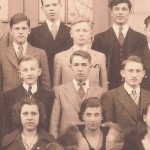 A class photo taken circa 1936 in front of the William Penn High School in Harrisburg, Pennsylvania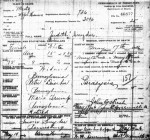 I just recently got the death certificate for the last of my direct ancestors who died after 1906—the year Pennsylvania started registering births and deaths at the state level, as opposed to the county level. Her name was Judith (Deysher) Snyder.
I've recently been reading An Echo in the Bone by Diana Gabaldon, the latest in her series which started with Outlander. If you haven't read the series, one of its main characters is James Alexander Malcolm MacKenzie Fraser, a dashing young Scottish highlander. Once I'd managed to pull my head out of the book and… read more
I've recently discovered that George Hoover, son of Andrew and Catharine (___) Hoover, of Fayette County lived in Union Township his whole life. Therefore, he can not be the George Hoover who owned property in Westmoreland County from 1779 through 1799 and died in Armstrong County in 1813. How Did We Get Here? Before I… read more