Brick Walls
family research dead-ends
I wrote previously about finding information that Adam P. Hocker, son of George and Margaret (Prevost) Hocker of Buckingham County, Virginia, had served in the Company E of the 20th Virginia Infantry (Lee's Guards) during the Civil War and died at the Battle of Rich Mountain. However, information I've recently located calls that into doubt…. read more
I've been focusing recently on some of my female ancestors for whom I have little or no information. With surnames like Leedy, Frantz, Landis and Hershey, these are well-established—and I would have thought—well-documented families. When it comes to my ancestors, not so much.
Another family mystery, yet another man named Christopher (or Christian)! This time I'm trying to trace Christopher Hocker, son of Johan George and Anna Margaretha (Weidman) Hacker of Erdenheim, Whitemarsh Township, Montgomery County, Pennsylvania.
I've been working on my Hacker/Hocker family book recently and am wondering what to do with the unconnected Hacker and Hocker families in my database. Here's a list of some of them…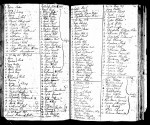 Recently, I've been updating and revising my great uncle William Wingeard's A German-American Hacker-Hocker Genealogy. In the first edition, Bill did not include any information on Johan "Hans" Adam Hacker's son Johan George (1766-1846). Fortunately, I have found some new information on him.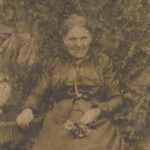 A while back I wrote about what I had learned about my ancestor James Buchanan. I wasn't sure if all the information I'd found pertained to the same man. I'm still not sure, but I have new information to ponder. My ancestress Elizabeth Buchanan married Peter Purvis Bonnington on 17 Jun 1864 at Bloomyhall, Junipergreen,… read more
According to the marriage record I found for my ancestors James Smith and Isabella Aitken, they were married 25 Dec 1840 in Carnwath Parish, Lanarkshire, Scotland.[1] This couple has been very difficult to document. After much struggling, I managed to find them in Whitburn, Linlithgow, Scotland in the 1851 census, but hadn't been able to… read more
One of the pieces of data I have for Andrew Hoover Jr. has intrigued and perplexed me. During her research in this Hoover family, Luella Schuamburg Hoover was sent a deed from Lancaster County, Pennsylvania in which Andrew named Yost Herbaugh as his attorney to receive from Catherine Liebrich, relict of Nicholas Liebrich, late of… read more
If you recall from my post Hoover Families in Licking County, Ohio I was especially interested in John and Barbara Hoover of Franklin and Newark Townships. John was of interest to me because the census information indicated that he was of the appropriate age to be my John2 Hoover (Andrew1). A review of the Revolutionary… read more
I've recently been researching the Hoover families of Licking County, Ohio. If you've been following the Andrew Hoover family data that I've been putting up, you'll have noticed that Henry2 Hoover (Andrew1) moved to Johnstown, Licking County, Ohio from Greene Township, Greene County, Pennsylvania (prior to that Wharton Township, Fayette County, Pennsylvania) sometime between the… read more