I've been using the "York County, Pennsylvania Orphans Court Records index, 1749-1840" in researching the families associated with Ulrich Hoover of Adams and York counties. Since I've had to go back several times, I've been bookmarking the start of surname starting letter sections as I use them. Randy Seaver suggested in one of his Follow-up… read more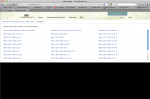 The FamilySearch website includes a collection entitled "Pennsylvania, Probate Records, 1683-1994." While it isn't indexed and doesn't include every county, it's pretty easy to use once you figure it out.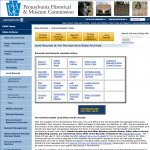 If you've read my blog, you'll know that I use land records—a lot! I've mentioned warrants, patents and deeds in a number of posts. They're some of my favorite record groups. And best of all, depending on where your ancestor lived, the records may be available online for free. This blog post is going to explain how to use the land records available online at the PA State Archives.