If you use Reunion for the Mac for your genealogy program, here are a couple of web sites that provide instructional videos on how to better use the application.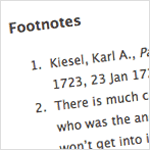 Can you judge a piece of research simply by looking at the source list? Is a long list of sources a guarantee of the quality of the research?
Have your really proven your ancestry? Finding information online is great, but should only be considered a first step. To prove your ancestry you need to verify sources and references. Rootsweb Review has a good article on how.
Here's my bit of wisdom for a Wednesday: don't stop your research into a document at the abstract. Find the full document.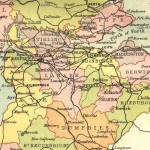 In looking for information about Roxburghshire, Scotland I came across the FamilySearch Wiki information on Scotland. This site includes information on all the Scottish counties, including information on available records (census, court records, civil registration, etc.), maps, and its parishes. The parish pages will tell you about the records available for that parish, including church… read more
One of the joys of browsing other genealogy blogs—besides getting ideas on how to organize information, which always intrigues the designer in me—is finding new goodies to help my research. So, hat's off to Kathleen Moore for finding and posting two helpful maps of Scotland in her blog "The Misadventures of a Genealogist". The first… read more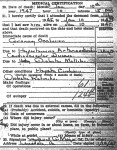 We've all heard how diseases can now be predicted by blood tests that search our DNA for specific markers, thus proving that a lot of the most common ailments run through our family lines. Tracing your family's medical history for illnesses that have affected your parents, grandparents and other relatives can tell you something about… read more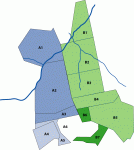 So, just how many Henry Hoobers were there in the Conestoga (now Pequea)/Martic (now Providence)/Lampter/Strasburg township area of Lancaster County, Pennsylvania? If you'd asked me that question yesterday, I'd have said one. Now today, I'm not so sure… According to the township warrantee maps, there were 5 tracts either warranted to or patented to Henry… read more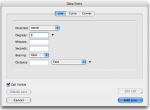 As you may know I've been working with land records a lot recently. I started with the surveys available for Lancaster County land warrants and patents, grouping them by township and name. I've also been going through Hoover family deeds for Lancaster County and assigning them to the appropriate Hoover family. My goal is to… read more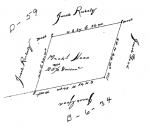 For some reason I got stuck on John Hoover today when I was deciding where to start on my Huber/Hoover work. Which John Hoover, you ask? I was hoping to find information on John Hoover (Huber), son of Hans Ulrich (Woolerick) Huber of Conestoga Township, Lancaster County, Pennsylvania. I don't have much information on him…. read more