George2 Hacker (Johan Adam1) is another Hacker/Hocker family member I've had some difficulty finding information on. Johan George Hacker was the fifth son of Johan Adam and Maria Elisabetha (Weidman) Hacker. He was born 9 Oct 1766 and christened 12 Oct 1766 in the Emanuel Lutheran Church in Brickerville, sponsored by Lorenz Haushalter and wife… read more
In researching the family William Wingeard found several articles about Levi Hocker's mysterious disappearance and the subsequent discovery of his suicidal drowning.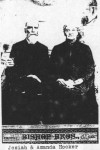 Josiah HOCKER, son of Johannes W. and Elizabeth (HENRY) HOCKER married Amanda Catherine HAMILTON, possibly the daughter of William and Elizabeth (___) HAMILTON on 30 Dec 1852 in York Springs, Pennsylvania. Amanda died in 1877. Josiah married second Martha J. (___), probably in Cumberland county sometime between 1877 and 1880. In 1886, Josiah moved—with some… read more
John and Jacob Hocker, sons of Adam Hocker, disappeared from Dauphin County, Pennsylvania in the late 1830s. What happened to them? Where did they go? This article starts to examine the possibilities.
I am struggling to locate Adam and Mary (SINE) HOWDYSHELL and their sons, Adam, Jr., Daniel, Isaac, John W. and George Westfall(?) after the Civil War.
Isn't it amazing how often family members disappear? Especially the farther back you go. Of course, they haven't truly disappeared, you simply haven't found the right records, assuming, of course, that they still exist. I'm seeking any information on Christopher Hocker (original spelling Hacker), born ca. 1776 at Erdenheim, Montgomery County, Pennsylvania. It is said he went to Ohio…
Research doesn't always go smoothly. My great-great-great grandfather Christian Hoover has been giving me fits for some time. Here's the deal…