I've been curious about Christian Hoover of Heidelberg Township for a while. His will names his brothers: Jacob, Ulrich and Henry, but doesn't provide any more information than their names. I'd really like to find more information on them to flesh out this family.
I'm accustomed to visiting the websites of state and county archives to learn more about their holdings to determine if I should plan a visit or request information by mail. Sometimes you can find quite a bit more. Such is the case with the York County Archives (Pennsylvania).
Deed records can provide information on individuals we might otherwise have known nothing about. Such is the case of Henry Hoover of Strasburg Township, Lancaster County, Pennsylvania who died circa 1832/3, single with no issue. The deeds state he was one of eight children and name the heirs of four of his siblings—Christian, Esther[?], Elizabeth[?], and Freny.
Soon everyone on the United States will be able to order LDS microfilm from the comfort of their desk chair!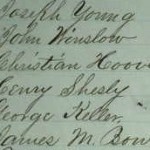 Years ago I found reference to a Christian Hoover of Gaskill Township, Jefferson County, Pennsylvania who was drafted along with Augustus Kinter and Samuel T. Hoover during the Civil War. I've always wondered if this were my ancestor Christian Hoover. Today, I may have found my answer.
Almost 100 years ago on March 25th a factory fire in New York claimed 146 lives. The fire led to changes building codes, labors laws, union formations and politics. Now the final six unidentified victims have been identified.
In a previous post I wrote about connections some of my Hoovers had with the Shockey family of Washington County, Maryland. In reviewing the PDF file of Maryland Historical Magazine, volume 13, number 3, I found reference to the Shockeys again. This time in relation to counterfeit money during the Revolutionary War. I'd read about… read more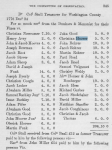 I was recently going through the stacks of materials distributed around my "office" when I came across a document I'd ordered from PERSI—"Proceedings of the Committee of Observation for Elizabeth Township District [Washington County]" from the Maryland Historical Magazine, Volume 13. I had ordered this because copies I had made at the Pennsylvania State Library… read more
I've added two new indices to the warrantee maps for Strasburg and West Lampeter townships in Lancaster County, Pennsylvania.
The 1911 Scottish Census will be released 5 Apr 2011. More than 4.7 million Scots provided information for this census. Is your ancestor one of them?