On 13 February 1805, the Martic Township school board included: Henry Bowman, Martin Huber, Benjamin Hart, Christian Musser, Daniel Herr, Martin Eshleman, Martin Huber (joiner), Isaac Herr, Joseph Bassler, Jacob Huber, Jacob Kochenauer, Henry Resh, John Kindig, Jacob Brubacher, John Winter, John Huber, John Huber Junr., Abram Kochenauer Senr., Abram Kochenauer Junr., George Hess, John… read more
Starting off the "Along the Pequea" series is an article outlining the transfer of ownership for Hans Line's original patent tract on a branch of Pequea Creek in Conestoga (now Pequea) Township, Lancaster County, Pennsylvania from the patent date of 1735 through transactions by two of his great grandsons in the 1810s.
I'm sure you've heard or read that learning about your ancestor's neighbors can greatly assist your family research. None of our ancestors lived in isolation. They had family, friends and neighbors who often shared their language and customs. These social groups often intermarried, moved and settled together, and sold land to or purchased land from each other. I'm starting a new series of articles that will trace land transfers on Pequea Creek from the original warrantee through 1800.
The United States Federal Census is one of the most widely used resources for genealogists. But did you know that the census microfilm images are also available online for free through the Internet Archive?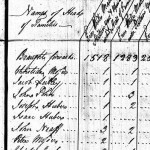 Census records are a valuable tool for the family historian. Do you know enough about them to use the effectively?
Many of you may know that I've been researching the Huber families of Lancaster County, Pennsylvania. I've been recently focusing on the early settlers along Pequea Creek in Conestoga, Martic, Lampeter and Strasburg townships. Census records have been one of the resources from which I've been compiling data. To my disappointment, the 1820 census for… read more
When we find a genealogical record we like to wring it dry of evidence, pulling every piece of information we can about our ancestor from it. However, we may miss some obvious clues if we don't understand some basic facts about that record. Michael Hait has posted an excellent article entitled "Five things you have… read more
Just the  other day I had reason to go looking for the articles I had written on my research on John and Jacob Hocker, sons of my ancestor Johan Adam and Sophia Maria (Hershey) Hocker. I wanted to send links to someone who had emailed me regarding another Jacob Hocker, son of Adam and Eve… read more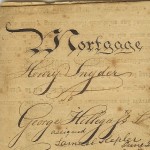 Among my grandfather's papers, I found the original document of a mortgage between Henry Snyder and George Hillegas for 62 acres 40 perches in Upper Hanover Township, Montgomery County, Pennsylvania. The document was dated 17 Aug 1830!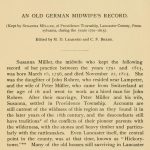 Update (7/4/2011): I've added the possible names of children and their parents where I have information. As you can see there's more to add. If you have information that fits, please send me an email. Thanks Yesterday, I was poking around online trying to find Huber information when I came across the most wonderful article…. read more