Tools
Tools used to assist research
Mailing lists can be a great tool for collaboration with other researchers in your area of interest. They can also be a great source information. But you don't necessarily need to be on a list in order to benefit from it.
Census records are an invaluable source of information for family historians and genealogists. They are a go-to, record-of-choice for me when I start new research. However, they only occur every ten years. That leaves a lot of time uncovered. Even if you're lucky and your research location includes state census records, there are still going… read more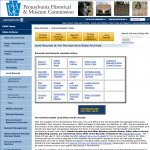 If you've read my blog, you'll know that I use land records—a lot! I've mentioned warrants, patents and deeds in a number of posts. They're some of my favorite record groups. And best of all, depending on where your ancestor lived, the records may be available online for free. This blog post is going to explain how to use the land records available online at the PA State Archives.
The United States Federal Census is one of the most widely used resources for genealogists. But did you know that the census microfilm images are also available online for free through the Internet Archive?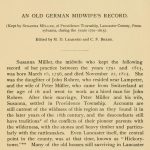 Update (7/4/2011): I've added the possible names of children and their parents where I have information. As you can see there's more to add. If you have information that fits, please send me an email. Thanks Yesterday, I was poking around online trying to find Huber information when I came across the most wonderful article…. read more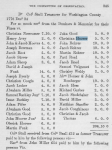 I was recently going through the stacks of materials distributed around my "office" when I came across a document I'd ordered from PERSI—"Proceedings of the Committee of Observation for Elizabeth Township District [Washington County]" from the Maryland Historical Magazine, Volume 13. I had ordered this because copies I had made at the Pennsylvania State Library… read more