I've been using the "York County, Pennsylvania Orphans Court Records index, 1749-1840" in researching the families associated with Ulrich Hoover of Adams and York counties. Since I've had to go back several times, I've been bookmarking the start of surname starting letter sections as I use them. Randy Seaver suggested in one of his Follow-up… read more
When judging a document to determine whether or not it applies to your ancestor, it's always a good idea to keep in mind how old they were.
Do you ever wonder about the laws governing colonial Pennsylvania? You can read William Penn's charter and the early laws of the colony online.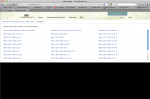 The FamilySearch website includes a collection entitled "Pennsylvania, Probate Records, 1683-1994." While it isn't indexed and doesn't include every county, it's pretty easy to use once you figure it out.
Thanks to the Digital Public Library of America's blog post I found the German Digital Library. The goal of the library is "to offer everyone unrestricted access to Germany's cultural and scientific heritage, that is, access to millions of books, archived items, images, sculptures, pieces of music and other sound documents, as well as films… read more
Have an ancestor who was born before 1910 or died in Missouri? Check out the "Missouri Birth and Death Records" collection at Missouri Digital Heritage. I found death certificates for several of my Hockers.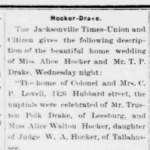 Newspapers are a wonderful resource for finding not only the genealogical date, but the also the details that make a person's life colorful. This week's find is a marriage announcement for Trusten P. Drake and Alice Hocker of Leesburg, Florda.
Census records are an invaluable source of information for family historians and genealogists. They are a go-to, record-of-choice for me when I start new research. However, they only occur every ten years. That leaves a lot of time uncovered. Even if you're lucky and your research location includes state census records, there are still going… read more