Researching an individual is particularly difficult when they have a common name. It is even more difficult if there is more than one person of the same name in the same general location at apparently the same time. Such is the case with Christian Hoover of Hempfield Township, Lancaster County.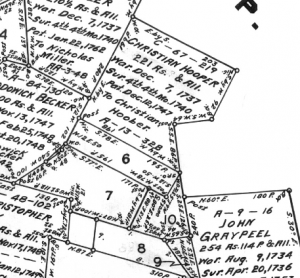 Land documents show three warrants for tracts in Hempfield Township granted to "Christian Hoober," all dated in 1743 or 1744.1 Two of the warrants were patented to Christian Hoober and the third was patented to Martin Hoover. An additional, adjacent tract in Warwick Township, warranted to "Christian Hooper," was patented to Christian Hoober on 12 Dec 1747.2,3
Tract #1
The first tract was in the north eastern corner of present day East Hempfield (see #6 on map at right). It was warranted to Christian Hoober on 10 Jan 1744/5 and patented to him on 12 Dec 1747 (Patent Book A-13:328). The adjacent tract was the Warwick Township tract patented to Christian Hoober on 12 Dec 1747.4 These tracts belonged to the same man.
On 16 May 1767 Christian Hoover and wife Margareth sold 2 tracts of land to Jacob Oberholtzer—one of 57.5 acres and the other of 121 acres. Tract 6 on the warrantee township map was 57 acres.5 So, he sold this parcel and part of the tract in Warwick Township that he patented in 1747 that was warranted "Christian Hooper."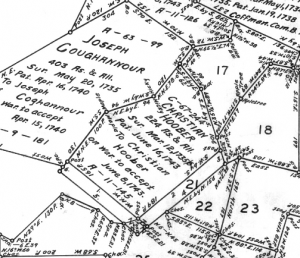 Tract #2
The second tract was located to the south and west and apparently sat in both the present East and West Hempfield townships (see map left). This tract was warranted to Christian Hoober on 8 Jun 1743 and patented to him on 16 Jun 1743 (Patent Book A-11:145). It was surveyed on 12 Mar 1735/6.6 This tract later belonged to Christian's son John Huber Esq.
On 14 Dec 1758, the heirs of Christian Hoover, late of Hempfield Township—namely Martin Hoover and Catharine his wife, Jacob Hoover and Ann his wife, Henry Funk and Elizabeth (Hoover) his wife—sold to John Hoover, another son of Christian Hoover, 224 acres in Hempfield Township (see map #2).7 On 1 Sep 1764, Christian Hoffman and Barbara (Hoover) his wife sold their share of Christian Hoover's property to Barbara's brother John.8 And finally on 10 Jun 1769, John Bausler and Anna (Hoover) his wife sold their interest in the property to John Hoover.9 Two additional sons of Christian Hoover were mentioned in the deeds—Michael and Christian Jr. They apparently "died in their Minority unmarried without issue." 10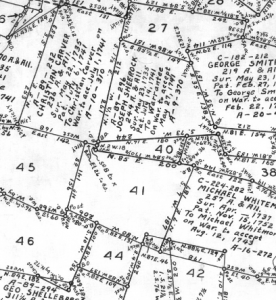 Tract #3
The third tract is located in the present day West Hempfield Township. It was warranted to Christian Hoober on 15 Aug 1744 and patented to Martin Hoover on 12 Apr 1750 (Patent Book A-15:337). It was surveyed 12 Apr 1737.11 Martin Hoover was Christian's eldest son.
The West Hempfield tract that was patented to Martin Hoover was given to his sons Joseph and Isaac Hoover in his 1788 last will & testament.12
Conclusions
Based on the land warrant, patent and deed records, it is apparent that there were two different men named Christian Hoover in Hempfield Township. The first died sometime prior to 27 Nov 1757.13 The second Christian Hoover was alive at least as late as 1771 when he sold land he purchased in Lancaster Borough to Rupertus Hartaffel.14
Christian Hoover (died bef. 1757) had a son named Christian, but since he died prior to 1758, the second Christian Hoover can not be the son of the first. The first Christian was located in Hempfield Township prior to 1735/6 when tract #2 was surveyed. The second Christian was in Hempfield Township before 21 Feb 1746/7 when the first tract was surveyed.15
Cite This Page:
Kris Hocker, "Christian Hoover of Hempfield Township," /genealogy the genealogy & family research site of Kris Hocker, modified 20 Mar 2014 (http://www.krishocker.com/christian-hoover-of-hempfield-township/ : accessed 1 Sep 2015).
Content copyright © 2014 Kris Hocker. Please do not copy without prior permission, attribution, and link back to this page.