Andrew2 Hoover (Andrew1) was born circa 1755—1761, probably in the Leitersburg—Hagerstown—Ringgold, Maryland area. Andrew may have died sometime between 1792 and 1800 as he does not appear in the 1800 census for Fayette County.
He went to the Fayette County area (then Westmoreland County) by 1780, possibly as early as 1769 with his brother Jacob. He may have first settled in an area that Virginia first called Yohogania County, which consisted of parts of present day Fayette, Washington, Beaver, Allegheny, and all of Westmoreland counties.1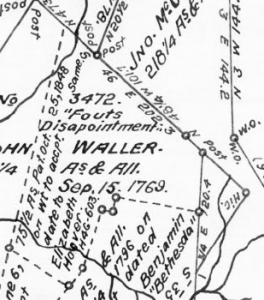 Andrew Jr. purchased from John Waller 28 acres of land on the Redstone Creek adjacent to his father's property. He was a millwright of Youghiogeni County, Virginia at the time of the purchase. He may not have had the deed recorded until he sold it as it was dated 7 Mar 1780 and he turned the title to it over to Jacob Pindle on 7 Aug 1780.2
Andrew and his brother-in-law John Hunsicker purchased together 185 acres of land in Tyrone Township, Westmoreland County from John Waller on 24 Nov 1775 for 168 pounds.3 At the time, they resided in Menallen Township, Westmoreland County (now part of Fayette County). This land was signed over to Andrew's brother Henry on 8 Sep 1780. The two men also received lots in Uniontown (then Beeson town) in 1776, the same month Hunsicker was fined in Elizabethtown (now Hagerstown) for neither serving in or paying the military to support the war. 4
Andrew purchased from his brother John the land in Union Township that John inherited from their father's estate. He then turned this land over to his brother Henry and Henry Beeson for and "in consideration of debts owning from the estate of Andrew Hoover deceased" and five shillings on 16 Aug 1785.5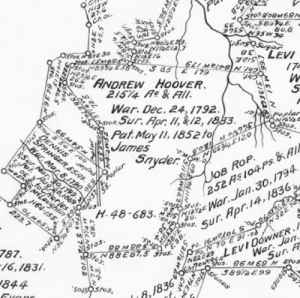 Andrew Hoover also received 200 acres of land from the state of Pennsylvania "on Dunbar's Run near the top of Laurel Hill in Wharton [township] near the line of Union township in Fayette County" as shown in a warrant dated 24 Sep 1792. This property was surveyed 11 and 12 Apr 1833. 6
Andrew Hoover Jr. was listed on tax records for Menallen Township, Westmoreland County in 1783 as a single man, in Union Township, Fayette County in 1785 and 1786, and in Wharton Township, Fayette County in 1789.7,8,9,10
No marriage record was found for Andrew. His wife is not listed on any of the deeds I've seen for Fayette County. However, on 10 Nov 1788, Andrew Hoover appointed Yost Herbaugh of Manchester Township, York County, possibly an uncle of Andrew's probable brother-in-law John Herbaugh/Harbaugh (married to his sister Maria Catharine), as his attorney to receive from Catherine Liebrich, relict of Nicholas Liebrich, late of Raffow Township (Rapho Township), Lancaster County, Pennsylvania, "three bonds due from John John [Hans] of Menallen Township, Lancaster County… unto me two of which are for the sum of Twenty-five pounds."11
By tracing Lancaster deeds involving Andrew Hoover, Nicholas Liebrich, and John Hans, I was able to determine that Andrew Hoover married Maria Hans, daughter of Henrich Hans of Warwick Township, Lancaster County, Pennsylvania, sometime after the 1783 tax enumeration of Westmoreland County but prior to 1 Apr 1784.12 Maria Hans is recorded as the "wife of Andrew Hoover of Feyat [sic] County."
I have information on only one possible child of Andrew and Maria (Hans) Hoover. There was a baptism for a child Anna Catharine at Jacobs Lutheran Church in German Township, Fayette County on 12 Apr 1785 with parents named Andrew and Maria Hoover.13 This is too late to be Andrew Hoover Sr. and too early to be a son of Henry or George Hoover. So, for now, I am presuming that this baptism is for a child of Andrew Hoover Jr. and his wife.
Only one child is known for this couple:
Anna Catharine Hoover

was born 3 Feb 1785 in Fayette County, Pennsylvania and baptized in Jacobs Lutheran Church on 12 Apr 1785, sponsored by Elias Metz and Anna Maria. She is possibly the Catharine Hoover who married

Adam Shoemaker

, son of Johannes and Catharine (Hoover) Shoemaker on 28 May 1801 in Pennsylvania. If so, she died sometime after the 1840 census enumeration in Perry County, Indiana.
If all the members of Andrew's household in the 1790 census are his family, then Andrew and Maria may have had additional children, as follows:14
Male, age <16, born bet 1774-1790
Male, age <16, born bet 1774-1790
Male, age <16, born bet 1774-1790
Female, born bef 1790
Female, born bef 1790
Since Andrew and Maria were married circa 1783/4, these children—if born of this couple—were more likely born between 1783/4 and 1790. Given the fact that they'd been married for approximately six years, it is likely that not all of these children were theirs. Usually, when estimating birth years for children you estimate one child every other year. Catharine was born in 1785, so I'd "guesstimate" additional children born in 1787 and 1789.
Andrew Hoover Jr. is not found in Fayette County at the time of the 1800 United States census. So, he either died prior to 1800 or left Pennsylvania. A Widow Hoover is found in the 1800 census for Tyrone Township, Fayette County, Pennsylvania. Knowing that Andrew had at one point owned land in Tyrone I check the township tax records for 1790 through 1810. The only Hoovers listed during this period were Sarah Hoover and Henry Hoover, single man.15 So, unless Andrew remarried prior to 1800, this is not Andrew's widow.
Cite This Page:
Kris Hocker, "Andrew Hoover Jr. (ca 1755/61—?)," /genealogy the genealogy & family research site of Kris Hocker, modified 11 Feb 2012 (http://www.krishocker.com/family-group-sheets/andrew-huber-sr/andrew-hoover-jr/ : accessed 4 Sep 2015).
Content copyright © 2012 Kris Hocker. Please do not copy without prior permission, attribution, and link back to this page.