Jacob2 Hoover (Andrew1) was born circa 1746, most likely in Ellerstadt, Germany. He died in 1800 sometime between the time the 1800 tax returns were recorded and 8 Sep 1800 when his will was probated.
Jacob married Anna Maria (___), most likely in Maryland.
Jacob Hoover was the eldest of the three Hoover brothers who went to the Fayette County, Pennsylvania area about 1769. Jacob settled at Dunkard's Creek in Monongalia County, Virginia on land adjoining Nicholas Shinn. He was granted 400 acres by Virgina and the pre-emption to 1000 acres more based on his settlement of 1770 on 10 Sep 1781.1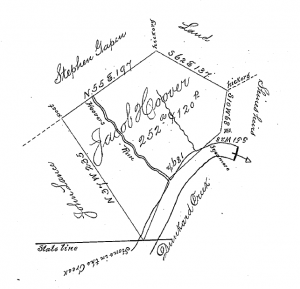 He sold the 1000 acres to Samuel Hanway that same day. He also sold 250 acres, now considered to be part of Washington County, Pennsylvania to John Lance on 30 Jul 1794.2 This land had been surveyed on 29 Jul 1794, but the warrant had been granted by Pennsylvania on 26 Jan 1785.3 He also sold 126 acres on Dunkard's Creek to John Lance on 13 Aug 1798. The deed for this sale states that the land was granted to Jacob Hoover by Virginia on 15 Jun 1784.4 It may have been part of the original 400 acres (if so, Jacob sold all of it to John Lance), but may also have been part of a later land grant.
However, there was a legal dispute over Jacob Hoover's Monongalia County land in 1804 that provides additional clues. Matthew Hannon disputed the boundaries of the Lance's property. Jacob Hoover, he claimed, had obtained a survey on 28 May 1784 for the 400 acres he held by right of settlement and, being given a certificate for 400 acres more, had ignored existing boundaries and claimed 50 acres more than his right when he surveyed the second 400 acres. The counter claim by Lance stated that Jacob had no more than 250 acres on the Pennsylvania side of this claim and 126 3/4 acres on the Virginia side of the claim, thus totalling less than 400 acres and that Hoover's claim was older than Hannons or any of the others. Additional statements of the he said-he said variety ensued with the court eventually awarding for the defendants (ie., Lance).5 From this court case, we can deduce that the land sold to Lance was part of the second 400 acres Hoover was granted.
Jacob Hoover also had 184 acres on Brown's Run in German Township. It was surveyed on 12 Mar 1785 for a warrant dated 26 Jan 1785.6 This property was called Hoover's Valley and it is where Jacob and Mary made their home. Jacob can be found in German Township tax records from 1785 when he received the land through 1800 when he died.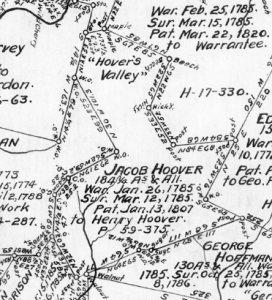 When Jacob's father Andrew died, he divided his Union Township property between three of his sons. Jacob kept this property until 5 Jul 1790 when he assigned it to his brother Henry. Henry, in turn, assigned it to James Rankin on 7 Jun 1791.7
Jacob left all his real estate and personal property to his wife Mary when he died in 1800. Each of his children was to receive five pounds from the estate.8 When Mary died in 1808, her Will gave her son George 100 pounds, her daughter Hannah 75 acres of the Hoover Valley property, her daughter Rachel about 30 acres of the property.9 Other heirs mentioned in her will include: her daughter Elizabeth Shins; her granddaughter Molly Shins; her granddaughter Elizabeth Hoover, daughter of Hannah and Joseph Hoover; her grandson Jacob Hoover, son of George Hoover; and her daughters Catherine Shoemaker, Madelina Shoemaker, Margaret Smith, Mary Chafin, Barbary [Barbara] Bacus, Rosannah Hoover, and Jemima Bowman. Her son George and son-in-law Joseph were co-executors of her estate.
Jacob and Anna Maria (___) Hoover had children, as follows:
Catharine3 Hoover married

John Schumacher/Shoemaker.

This family moved to Breckinridge County, Kentucky. Catharine died in Perry County, Indiana.

George Hoover

married

Elizabeth Garrison

. They moved to Ohio County, Kentucky.

Mary Magdalina Hoover

married

Johann Adam Schumacher/Shoemaker

. They moved to Ohio County, Kentucky.

Elizabeth Hoover

married

George Shinn

, perhaps the brother of Nicholas Shinn who owned property adjacent to her father's.10

Margaret Hoover

married

Unknown Smith

, perhaps Godfrey Smith of Redstone, Pennsylvania. This family moved to Greenup County, Kentucky. Their daughter Emily married Jacob Baccus, son of Peter and Barbara (Hoover) Baccus.

Mary Hoover

married

Unknown Chafin.

Rosanna Hoover

Barbara Hoover

married

Peter Baccus.

This family moved to Scioto County, Ohio. Their eldest son Jacob married Emily Smith, daughter of Godfrey and Margaret (Hoover) Smith.

Hannah Hoover

, baptized on 11 Sep 1783 at Jacob's Lutheran and Reformed Church in German Township, married circa 1800

Joseph Hoover

, perhaps the son of one of her uncles, John or Andrew Hoover Jr.11

Rachel Hoover

married

James Gray.

This couple may have moved to Greenup County, Kentucky.

Jemima Hoover

married

Unknown Bowman.
I've purposefully not included the birth dates I have for these children. If they are correct, then either Jacob and Mary were married and started their family at a very young age or the birth date for Jacob is incorrect. Unfortunately, I've run in to the same problem with the birth dates of most of Andrew1's grandchildren. Additional research is required to determine the truth of the matter.
If you have additional information on this family, you'd like to share, please leave a comment.
Cite This Page:
Kris Hocker, "Jacob Hoover (ca 1746—1800)," /genealogy the genealogy & family research site of Kris Hocker, modified 11 Feb 2012 (http://www.krishocker.com/family-group-sheets/andrew-huber-sr/jacob-hoover/ : accessed 29 Aug 2015).
Content copyright © 2012 Kris Hocker. Please do not copy without prior permission, attribution, and link back to this page.