Perhaps not so surprisingly, I've fallen behind on my 52 ancestors posts. I'm hoping to catch up. Here's a short one to start me off.
Henry Jones was born 15 July 1776 in Hilltown Township and died 10 December 1854 in Milford Township, both in Bucks County, Pennsylvania.1 He was buried in Christ Church cemetery in Trumbauersville. He was the son of Edward and Rachel (Lewis) Jones.2
Henry married Martha Bartleson by 1806.3 They lived in Milford Township, Bucks County, Pennsylvania where Henry was a farmer and carpenter. Martha died prior to 1 June 1830.
Henry and Martha (Bartleson) Jones had children:
Levi Jones (c1807-bef 1870), married Catharine (Rhoads?)
Rachael Jones (5 Mar 1809-10 Sep 1897), married John Witmer
William Jones (c1811-23 Aug 1899), married Mrs. Hedrick and Catharine "Kate" Hartzell
Mary Ann Jones (c1813-?), married Samuel Gilmore
Lewis Jones (10 Nov 1815-21 Nov 1900), married Lydia Frederick
Eliza Jones (c1817-c1849), married Wilson Davis
Matilda Jones (? 1819-?)
Isaac Bartleson Jones (11 Jan 1820-22 Apr 1892), married Sarah Senderling
Henry Jones (12 Apr 1822-22 May 1893), married Peninah Shive
Abel Jones (1 Feb 1824-27 Aug 1853)
John Jones (c1826-?)
Oliver Bartleson Jones (16 Aug 1829-4 Jan 1858), married Mary Elizabeth Bibighaus
Henry and Martha are my 5 times great grandparents.
---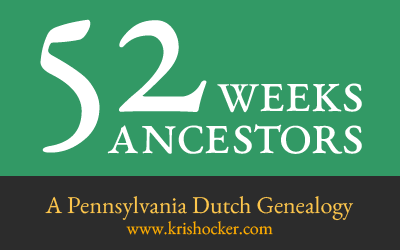 This post is part of a blogging challenge entitled 52 Ancestors in 52 Weeks, created by Amy Crow of No Story Too Small in 2014. Participants were to write about one ancestor every week. I'm revisiting this challenge for 2017. This is my tenth 52 Ancestors post, and a make-up post for week nine.
Footnotes
Find A Grave, database (http://www.findagrave.com : accessed 16 Jan 2014), memorial #51563960, Henry Jones; citing Christ Church Cemetery, Trumbauersville, Bucks County, Pennsylvania; record by Aimee Pattison, entered 24 Apr 2010. ↩
Mary Jane Erwin, Morris Lewis and his Descendants (Lewis-Jones Association, 1936), page 22. ↩
Erwin, Morris Lewis and his Descendants, page 22. ↩