Back in May I wrote a post about possibly discovering the identity of one of the children of Jacob and Magdalena (Brey) Wolf based on a match through AncestryDNA. The match was a descendant of Samuel and Judith (Wolf) Snyder. I followed it with a post regarding one of our shared matches whose ancestry could be traced back to the Brey and Yeakel families, both of which appear in my Wolf line. This discovery supported my hypothesis that either or both Samuel and Judith were related to my Snyder and Wolf lines.
Now that FamilySearch has starting making Pennsylvania deed books available online, I was able to search for Jacob Wolf of Allentown in the indices. And guess what I found? The names of Jacob's children—and in two cases where his children had died, his grandchildren.
Jacob Wolf
Jacob Wolf was born 5 November 1787 in what is now Lehigh County to Conrad and Catharine (Yeakel) Wolf. He married Magdalena Brey and they had eleven children, seven of whom were alive when he died 20 January 1868.
On 25 January 1868, Joel Wolf, Conrad Wolf, Absalom Wolf, Ephraim Grim, and John Schimpf posted $5,000 bond on the estate of Jacob Wolf. Joel, Conrad and Absalom were the estate administrators.1 On 7 February, Henry Kleckner and John Schimpf took an inventory of Jacob's "goods and chattels." They were apparently worth $2,772.60.2 Joel and Absalom Wolf submitted their administration account on 12 March 1869.3 While it is customary that family members served as estate administrators, so we can infer that Jacob, Conrad and Absalom were related to Jacob—presumably his sons—not one of the documents name their relationship.
In early April 1869, a series of deeds relating to the estate were recorded with the Lehigh County Register of Deeds. In each of the deeds, the heirs of Jacob Wolf were selling his property in Allentown. On 1 April, the estate sold land to C.L. Martin,4 on 2 April to George Seiple,5 John Bowen,6 Absalom Wolf,7 Joel Wolf,8 and Mary Wolf.9
In each case, the deed specifically names Jacob's children and, in two cases, his grandchildren, as:
Joel Wolf [Elizabeth]
Conrad Wolf [Catharine]
Absalom Wolf [Louisa]
Jacob Wolf [Julianne]
Mary Wolf
Eliza, widow of Charles Wetherhold
Mary, wife of David Miller
Emanuel Wolf (dec'd)

Children of Emanuel: Charles [Amanda], Enos, Susan and Lavinia

Judith (dec'd), wife of Samuel Snyder

Children of Judith: Jacob [Caroline], Nathaniel, Charles [Coletta], Sophia wife of Tighlman Fatzinger, and Anna wife of Daniel Mabes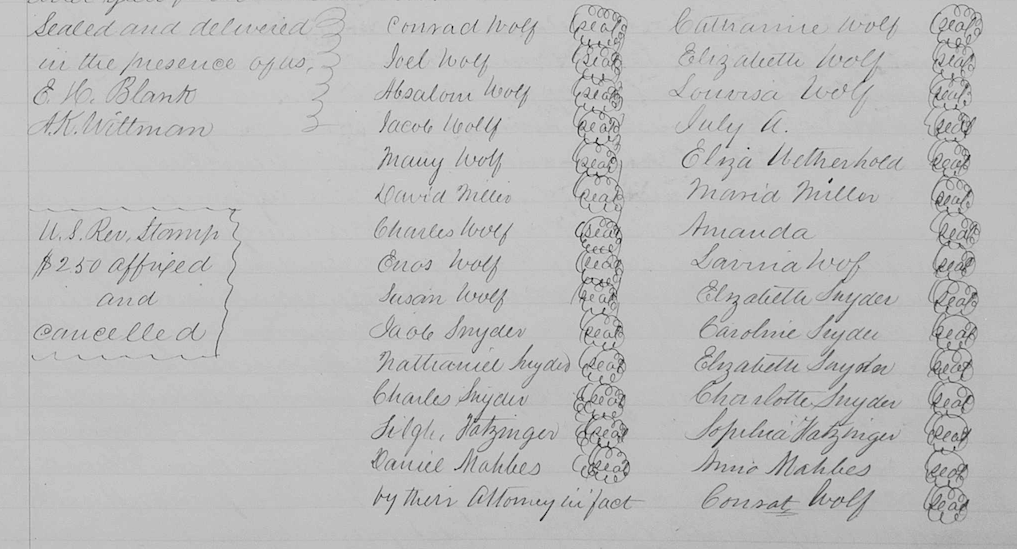 The signatures associated with these deeds included all the named heirs and where appropriate, their spouses (in brackets).
The 1850 census enumeration for Jacob's household in East Allentown only includes Jacob, Magdalena, Charles, and Catherine Wolf.10 However, family members were living nearby. His daughter Judith and her family is only four households away11 and Absalom's only another two households farther on.12 In 1860, Tilghman and Sophia Fatzinger are four households prior to Jacob,13 Jacob and Julianne14 are next door to Jacob,15 grandson Jacob and wife Amanda16 are multiple pages earlier, as are Samuel and Judith Snyder17 and Absalom and Louisa.18
Based on this information Jacob's daughter Judith was, in fact, the Judith (Wolf) Snyder who I wrote about in my post Unexpected Discovery from AncestyDNA Match. This makes "E" and I 4th cousins once removed through Judith (Wolf) Snyder and potentially 4th cousins once removed through Samuel Snyder, as well.
Furthermore, I also have another match, "J," on AncestryDNA who can trace his family back to Jacob Wolf, born about 1819 of Lehigh County. Given the birth year and location—and our match as 4th-6th cousins, I'm theorizing that this Jacob is the son of Jacob and Magdalena (Brey) Wolf. This would make us fifth cousins. "J" shares 44 cMs of DNA with me. Nearly twice the average for fifth cousins, possibly indicating an additional relationship, but a definite possibility.
I know some people seem to think that if they do the DNA test, their family tree will just magically build itself. That has not been my experience, at all. Without the work that I've already done to build out my pedigree, I wouldn't be able to identify my relationship to more than a handful of my DNA matches.
The DNA match itself is one more piece of evidence that I can use to build my proof statement. While it may help me to assess genealogy records pertaining to an ancestor with more confidence, it is still only one piece of the puzzle that I must build into a larger picture.