According to William Wingeard's A German-American Hacker-Hocker Genealogy, Elizabeth Walter, second wife of Michael Frantz Jr. and mother of my ancestor Anna (Frantz) Hocker, was the daughter of Jacob Walter and Anna Stauffer.1 She was born 20 October 1800, probably in Rapho Township, Lancaster County, Pennsylvania.2
I've been working on Jacob and Anna, trying to identify their family, but I haven't gotten too far. Jacob and Nancy (as she was called) were living with their daughter and son-in-law in Upper Swatara Township in 1840.3 Jacob died there on 23 September 1840.4 Nancy died 5 March 1845.5 They were both buried in the Frantz/Hagy family cemetery.
Looking back through census records, Jacob and family were enumerated in Upper Swatara in 1840 and 18306, Swatara Township in 18207 and 18108, and Rapho Township, Lancaster County in 1800.9 Assuming all the children in their household in these records were theirs, their family included:
Jacob Walter, born 1760-1770
Anna (Stauffer?) Walter, born 1770-1780
Male Walter, born 1790-1794
Female Walter, born 1790-1794
Male Walter, born 1794-1800 [Christian?]
Male Walter, born 1794-1800 [John?]
Female Walter, born 1795-1800
Elizabeth Walter, born 2 Oct 1800
Male Walter, born 1800-1810
Male Walter, born 1804-1810
Female Walter, born 1804-1810
Female Walter, born 1804-1810
Female Walter, born 1810-1815
Female Walter, born 1810-1815
Jacob and Anna received a marriage license from Lancaster County 18 April 1795.10 In the 1800 census, they had 3 boys and 2 girls under 10 in their household. Daughter Elizabeth wasn't born until October, so she is not included in these five children.
In 1810, they had five males—1 male (1784-1794), 2 males (1794-1800), and 2 males (1800-1810)—and four females—1 female (1784-1794) and 3 females (1800-1810). By 1820, there were two younger males—one born 1794-1804 and the second born 1804-1810—and four females—two born 1794-1804 and two born 1810-1820.
So, either not all the children survived or they were not living at home in every census. It's also possible that Ann was Jacob's second wife. Several of the household members consistently show birth years prior to 1795 when Jacob and Anna married.
Jacob purchased 129 acres in Rapho Township from James Mayes (aka "Mease") on 27 February 1790.11 He sold three acres of this land 20 March 1795 to Jacob Otto.12 He sold the rest of the land to Peter Lindemuth on 27 March 1800.13
He purchased 58 acres in Mount Joy and Donegal townships from Christian Bare on 2 May 1801.14 This land adjoined land of John Stauffer, deceased. He sold it on 17 April 1807 to Jacob Rohrer.15
Jacob patented 290 acres of land in Swatara Township on 31 December 1813. He sold 42 acres to Jacob Steigelman on 6 April 1815.16 He sold another nine acres to William Rutherford 22 May 1822,17 20 acres to Daniel Page 2 April 1835,18 and 103 acres to Jacob Shuh on 2 April 1839.19 By my calculations, there are about 120 acres for which I need to account.
I have found no estate records for Jacob in either Dauphin or Lancaster County. If he still owned land at the time of his death, then there should have been a probate record dealing with the dispersing of the property to his heirs. It's likely he sold the land prior to his death and the pertinent deeds were not recorded at the county Recorder of Deeds office.
I believe Jacob might have been the son of Jacob Walther of Rapho Township who wrote his last will and testament on 26 January 1789, naming his children: Andrew, Margaret, Magdalena, Peter, Baltzer, Barbara, Jacob, and Dorothea. I need to request this will from the Lancaster County archives as it is not available on FamilySearch.
---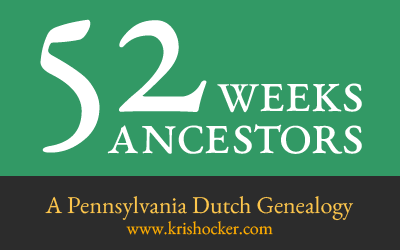 This post is part of a blogging challenge entitled 52 Ancestors in 52 Weeks, created by Amy Crow of No Story Too Small in 2014. Participants were to write about one ancestor every week. I'm revisiting this challenge for 2017. This is my sixth 52 Ancestors post, part of week five.