James Smith, my three times great grandfather, was born about 1812 in Whitburn, Linlithgow, Scotland1 to Thomas and Agnes (Nimmo) Smith and died on 8 February 1856 at age 44 in Whitburn.2 He was an "engineer," a.k.a. engine worker, who worked in the coal mines.
On 25 December 1840, he married Isabella Aitken, daughter of William Aitken and Marion Brown of Lanark, Scotland.3 Isabella was born 27 February 1816 in Carnwath4 and died 1 December 1856 in Whitburn.5 Both she and James were buried in the Whitburn church yard.
On Sunday, 6 June 1841, the couple was living with Isabella's parents at Auchengray in Carnwath parish.6 William and his son John were wrights, son-in-law George Tweedie a laborer, and son-in-law William Smith an ironstone miner.
By 30 March 1851, James and Isabella and their children were living at Crossroads in the parish of Whitburn in Linlithgow.7 They had apparently moved there by 1844 as all their childrens' birthplaces are listed as Whitburn.
1856 was a terrible year for Thomas, Marion and William Smith, James and Isabella's three children. After the death of their parents in February and December, they likely went to live with James' brother and sister: William and Margaret. Marion died 11 May 18578 of hydrocephalus, likely acquired hydrocephalus caused by an injury, infection or tumor. Thomas and William can be found in Uncle William's household in Whitburn in 1861.9
Thomas remained in Fauldhouse until his death in 1909. William became a ship's engineer and travelled abroad, eventually marrying in Edinburgh and emigrating to the United States. He filed an intention to become a naturalized American citizen on 20 September 1886 in Berks County and became a citizen on 12 January 1893 at Harrisburg.10
James and Isabella (Aitken) Smith had children:
 Thomas Smith was born circa 1844 and 9 May 1909, Fauldhouse, Greenburn, Whitburn parish. He married married Jane Bryce.
Marion Smith was born circa 1846 and died 11 May 1857, Greenburn, Whitburn parish.
William Smith (25 Sep 1851—23 Feb 1905, Harrisburg, Pennsylvania), married Eliza Craig Bennington, 12 December 1882, Uphill parish, Linlithgow
---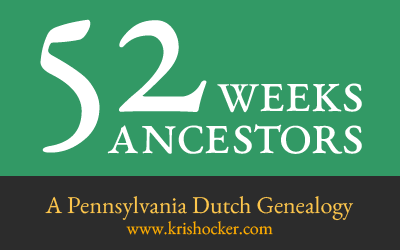 This post is part of a blogging challenge entitled 52 Ancestors in 52 Weeks, created by Amy Crow of No Story Too Small in 2014. Participants were to write about one ancestor every week. I'm revisiting this challenge for 2017. This is my twelfth 52 Ancestors post, and a make-up post for week eleven.