If you do genealogy, then you've got to love maps. Maps can help get you oriented, organized and straightened out when the research—and all the little bits of data you've collected—gets confusing.  Say you find records under the same name, but in different townships. A map can help you to decide whether the records are likely to be for one man or more than one man.
What always trips me up, however, is that maps don't stay the same over time. Records for one location may be in a different township or county—or even state—years or decades earlier or later. For instance, John2 Hoover's (Andrew1) property in Greene County was originally part of land claimed by Virginia, so documentation can be found in Monongalia County, now West Virginia. But after Virginia and Pennsylvania settled their claims, part of John's land was in Westmoreland County then Washington County, where the copied survey can be found, and finally Greene County.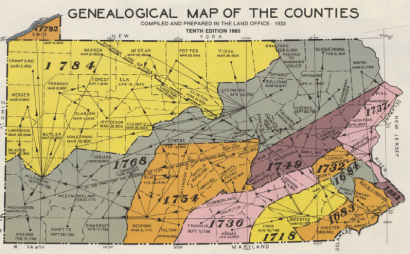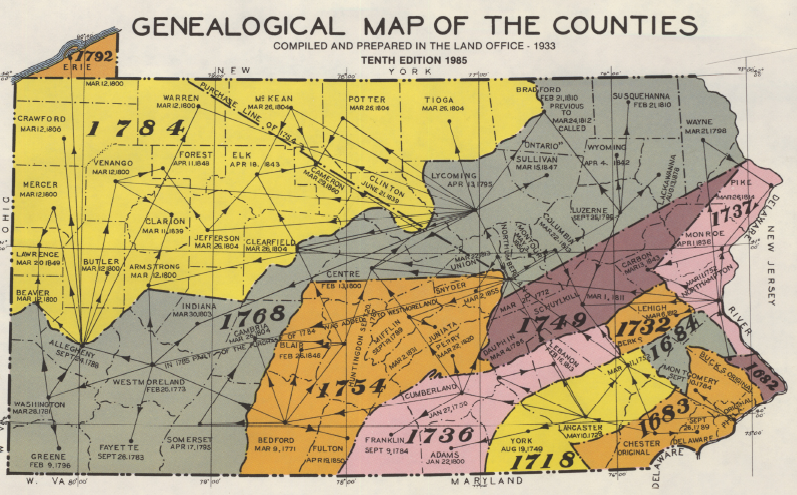 What I love about the Genealogical Map of the Pennsylvania Counties from the Pennsylvania Land Office is that it shows the counties over time. You can see when certain parts of the Commonwealth were purchased. It also tells you when each county was created. For instance, the Fayette County area was part of land purchased in 1768. But Fayette County wasn't created until 1783. It also shows you that Fayette was originally part of Cumberland County (#6), then Westmoreland County (#11).
The full map also includes little vignettes that show the counties for specific years. You can see how the jurisdictional landscape changed through the years. (Click on a thumbnail below to enlarge the image) It also includes information on each of the 33 land purchases from 1682 through 1792 that established the boundaries of the state of Pennsylvania.
Update 11/2012: If you would like a copy of this map, you can purchase it at the Pennsylvania State Bookstore – shoppaheritage.com. It's a bargain at $2.00 for an 11×17 poster. The downloadable PDF is NOT printable.