It's surname Saturday and this week I'm remembering my great great grandfather William Smith of Edinburgh, Scotland and Harrisburg, Pennsylvania.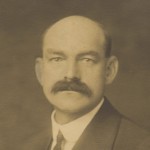 From Scotland to West Virginia Alexander Bonnington was born on 16 August 1875 in Durhamtown, Bathgate, Linlithgow, Scotland, the third son of Peter Purvis and Elizabeth (Buchanan) Bonnington.[1] He grew up in the lowlands of Scotland between Edinburgh and Glasgow. His father died on 16 September 1891 when Alexander was 16 years-old.[2] On 27 January… read more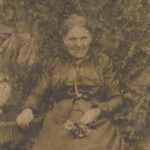 A while back I wrote about what I had learned about my ancestor James Buchanan. I wasn't sure if all the information I'd found pertained to the same man. I'm still not sure, but I have new information to ponder. My ancestress Elizabeth Buchanan married Peter Purvis Bonnington on 17 Jun 1864 at Bloomyhall, Junipergreen,… read more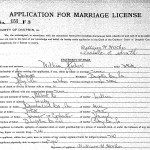 My great grandparents, William Hocker and Isabella Aitken Smith were married on 13 October 1914 in Harrisburg, Dauphin County, Pennsylvania. This is a transcription of their application for marriage license.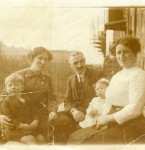 The back says: "Taken a week past Sunday when up. That is Roy [Rog] next door sitting on Crissie's knee" and also "Peter Chrissie May Jessie & a little boy that always with May."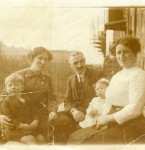 Going through the family photos, I came across another photo labeled as Jessie. A photographic clue as to the identity of "Aunt Jessie."
I have a few photos that likely belonged to my paternal great-grandmother Isabella Aitken (Smith) Hocker or her mother Eliza Craig (Bonnington) Smith. Most of them are not labeled, but even the ones that are don't actually tell me enough to identify the people in them. And, of course, everyone who might know has long since passed away.
I've recently been reading An Echo in the Bone by Diana Gabaldon, the latest in her series which started with Outlander. If you haven't read the series, one of its main characters is James Alexander Malcolm MacKenzie Fraser, a dashing young Scottish highlander. Once I'd managed to pull my head out of the book and… read more
PETER3 PURVIS BONNINGTON (William2, Robert1) was born ca 1844 in Galashiels, Selkirk, Scotland, son of William and Margaret (PURVES/FAIRBORN) BONNINGTON.[1] Peter died in Mayburn, Loanhead, Lasswade Parish, Edinburgh, Scotland, on 16 Sep 1891; he was 47.[2] He was enumerated with his family on the 1851 census for Galashiels, Selkirk, Scotland, at age 8; the 1861… read more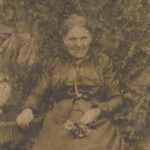 Peter3 Purvis Bonnington (William2, Robert1) was born ca 1844 in Galashiels, Selkirk, Scotland, son of William and Margaret (Purves/Fairborn) Bonnington.[1] Peter died in Mayburn, Loanhead, Lasswade Parish, Edinburgh, Scotland, on 16 Sep 1891; he was 47.[2] He was enumerated with his family on the 1851 census for Galashiels, Selkirk, Scotland, at age 8; the 1861… read more