Horace Witmer, son of Edward J. and Lydia (Kline) Witmer, was born 21 Dec 1864 and died 5 Dec 1926. His wife, Mary A. C. (Breish) Witmer, was born 8 Jan 1870 and died 31 Mar 1944. They are buried in St. Paul's Lutheran Church Cemetery, Red Hill, Montgomery County, Pennsylvania.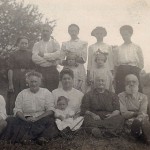 It's amazing what you find when you go looking. I was rescanning some photos that are already on the site and came across this photo and several others that were obviously taken on the same day.
Wilmer Witmer, son of Horace K. and Mary A. (Breish) Witmer, was born 7 May 1892 and died Jan 1978 in Sellersville, Montgomery county, Pennsylvania. He married Clara Barndt sometime before 1922.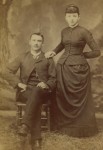 Horace K. Witmer and Mary A. Breish  married about 1891.