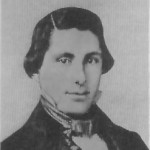 My 3x great-grandfather Levi Hocker was born on 17 January 1824, most likely in Swatara Township, Dauphin County, Pennsylvania. His life came to a sad and mysterious end on 31 October 1876.
I suppose I shouldn't by surprised by it. And yet… When I started researching Mennonite families in Lancaster County, it wasn't because I thought I was related to them. I started researching the Hoovers of Lancaster, hoping that I'd find some clue, some information, some connection that would lead me to more information on my… read more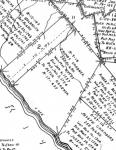 On 30 October 1860, Michael and Elizabeth Frantz of Swatara Township sold to Michael A Frantz 93 acres that had been part of a tract that Michael (the father) had inherited—along with his sisters Elizabeth and Mary—from their father Michael Frantz. Here's what I've learned about the family.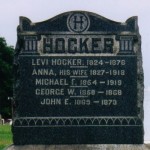 17 Nov 2012
Some Hocker gravestones from Churchville Cemetery in Oberlin, Dauphin County, Pennsylvania. All photographs copyright © Kristen Hocker
On 19 Mar 1743, Mathias Martin Weidman, my 8x great grandfather, died in Lancaster County, Pennsylvania.
On 19 Mar 1912, my 3x great grandfather Samuel Krehl Leedy died in Upper Mifflin Township, Cumberland County. He's buried in the Hill Cemetery near New Buffalo, Pennsylvania.
On 19 Mar 1812, Michael Frantz, my 4x great grandfather, and Elizabeth Neidig were married in Salem Lutheran Church in Harrisburg, Dauphin County, Pennsylvania.
Here's a transcription of the obituary of Herbert Hershey Hocker (1865—1946), son of Levi and Anna (Frantz) Hocker. Hershey married Sarah J. Bower, daughter of John and Amanda (___) Bower, 1 Apr 1906 in Yoe, Pennsylvania. [1] "H. Hershey Hocker Funeral services for H. Hershey Hocker, 554 Race Street, who died Tuesday night after a… read more