Samuel Boyer's 115-acre tract in Conestoga Township on Pequea Creek was warranted to Martin Kendig and John Herr as part of a larger 5,000 acre warrant. This post traces it as it changes hands through the late 1780s.
Here's a new addition to my series "Along the Pequea," tracing land ownership of the earliest settled tracts in Lancaster County. This entry features the John Smith tract. Some of his neighbors included: Jacob Behm, Hugh Patten, John Hoover, Jacob Hoover, John Line, and Jacob Gochenour.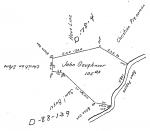 On 24 Jan 1733, John Goughnour warranted 105 acres on a branch of the Pequea in Conestoga (now Pequea) Township, Lancaster County, Pennsylvania, recorded in Lancaster County Warrants #G14. Three days later, John Taylor surveyed the property, noting it adjoined Christian Preaaman [sic], Have Line [sic], Christian Stone, and Samuel Buyer.[1] On 15 April 1761,… read more
I've been curious about Christian Hoover of Heidelberg Township for a while. His will names his brothers: Jacob, Ulrich and Henry, but doesn't provide any more information than their names. I'd really like to find more information on them to flesh out this family.