157 years ago Edward J. Witmer, son of John and Rachael (Jones) Witmer, married Lydia Amanda Kline, daughter of Philip and Lydia (Markly) Kline.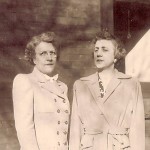 A Greulich family photo of Verna L. (1898-1980) and Alma M. (1893-?) Greulich, daughters of Morris Linton Greulich, taken circa 1929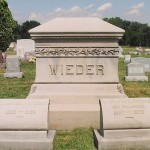 Emanuel J. Wieder was born 11 Nov 1855 in Lehigh County, Pennsylvania, youngest son of Saulus and Anna (Mechling) Wieder. He died 26 Jul 1929 and was buried 30 Jul 1929 in St. Mark's Union Cemetery in Pennsburg, Pennsylvania. He married Alavesta Esther Dillinger on 10 Jun 1878 in Upper Saucon Township, Lehigh County, Pennsylvania…. read more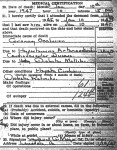 We've all heard how diseases can now be predicted by blood tests that search our DNA for specific markers, thus proving that a lot of the most common ailments run through our family lines. Tracing your family's medical history for illnesses that have affected your parents, grandparents and other relatives can tell you something about… read more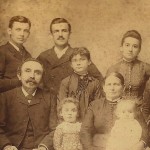 I've started uploading additional images to a new set of pages in the Galleries section of this site. The first new page is a family photos page for the Greulich family. It includes family portraits from 1887, 1901, 1929, and 1941/2, starting with a family portrait of the Karl Philipp and Caroline K. (Wolf) Greulich… read more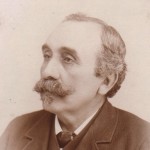 2 Aug 2010
Karl Philipp Greulich (aka Charles Philipp) was born 13 Sep 1838 in Haag, Mosbach, Germany, the son of Georg Philipp Greulich and Anna Margaretha Wurzel. He died 2 Feb 1904 in East Greenville, Montgomery County, Pennsylvania.
I've created a personal map on Google Maps of some of my research places. I find it very helpful to see the locations I've found in my research on a map. It gives me a better idea of the distances between places and also shows me the surrounding villages/town. Proximity can make a good case… read more
Standing, L to R:\ Clarence Franklin Greulich, Marie (Letterhouse) Dise, Linwood Greulich (hidden), Kate Amanda (Weil) Greulich, Carrie A. (Greulich) Letterhouse (partly hidden), Alda (Greulich) Broadwater, Linwood's Anna (Hunsberger) Greulich (hidden), Anna E. (Greulich) Keller, Chester's Annie M. (Scholl) Greulich, Ralph Keller(?), Frances A. (Schantz) Greulich, Loretta C. (Hill) Keller(?), Theodore Greulich, Elmer's Lillie Witmer… read more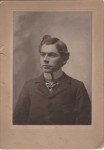 Elmer Calvin Greulich, youngest son of Charles Philipp Greulich and Caroline K. Wolf, was born 6 Aug 1880 in East Greenville, Montgomery county, Pennsylvania and died 10 Jan 1947 in Lansdale, Montgomery county, Pennsylvania. On 21 Sep 1901, he married Lillian Witmer Snyder, daughter of Henry D. Snyder and Saraphine K. Witmer.