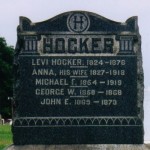 17 Nov 2012
Some Hocker gravestones from Churchville Cemetery in Oberlin, Dauphin County, Pennsylvania. All photographs copyright © Kristen Hocker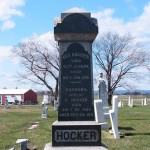 17 Nov 2012
Photos all copyright © Kristen Hocker.
17 Nov 2012
All photos copyright © Kristen Hocker.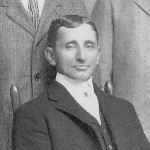 It's Surname Saturday. This week I'm remembering my great great grandfather Albert Curtin Hocker.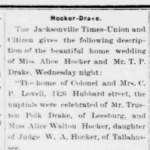 Newspapers are a wonderful resource for finding not only the genealogical date, but the also the details that make a person's life colorful. This week's find is a marriage announcement for Trusten P. Drake and Alice Hocker of Leesburg, Florda.