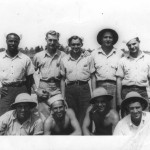 In honor of Memorial Day, I'd like to take a moment to remember those in my family who've served in the military. I grew up an Air Force brat. My father was Air Force ROTC in college and joined the Air Force upon graduation. We lived in multiple states and even overseas before his twenty… read more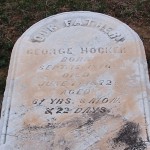 George Hocker, son of George and Elizabeth (Hassler) Hocker, was born 15 Sep 1810 and died 7 Jun 1872, possibly of typhoid fever. He was buried in Shoop's Cemetery, Lower Paxton Township, Dauphin County, Pennsylvania. He married circa 1832 Mary "Polly" Brubaker, daughter of Peter and Anna (Hershberger) Brubaker.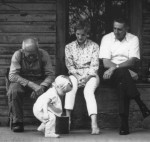 Here's a photo of 3 generations: Clyde Hoover, his son-in-law, grand-daughter-in-law, and great grand-daughter Kris Hocker (yeah, that's me!), circa 1971.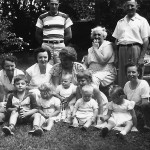 A Hocker family photo taken of the Will and Isabella (Smith) Hocker family at their home on 17 Aug 1950. It includes all their children and grandchildren.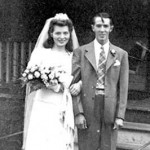 Today's Fearless Females entry is about how my parents, and grandparents met and married.
Today's Fearless Females entry is about the marriages of my great grandparents: Elmer and Lillian (Snyder) Greulich, Edwin and Mary (Waage) Wieder, Will and Isabella (Smith) Hocker, and Clyde and Nora (Houdeshell) Hoover.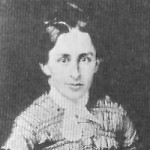 I've always been told that I was named after a German actress. So, I've never had any expectation that it was a family name. Until my family moved to New England when I was 10, I'd never even met anyone with the first name Kristen and even then it was more often spelled Kristin. There… read more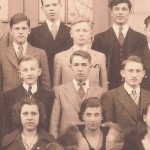 A class photo taken circa 1936 in front of the William Penn High School in Harrisburg, Pennsylvania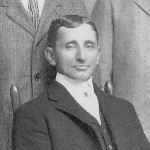 Albert Curtin Hocker family portrait taken presumably in the early 1900s.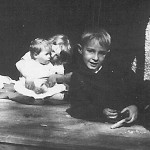 This is one of my favorite photos of my grandfather, William Hocker. His expression seems to speak volumes about the type of man he was. I miss him dearly. The photo was taken, I believe, at the Hocker hunting camp in Perry County, Pennsylvania. His sisters Anna and Betty Jean can be seen in the… read more