In part 1, I listed out several Henry Hoovers who were possible candidates to be the man who married Barbara Hoover, daughter of Jacob Huber of Martic Township, on 11 October 1791 in Trinity Lutheran Church in Lancaster, Pennsylvania. This post examines the information I've compiled on the first two candidates on the list—Henry (son of John) and Henry (son of Jacob).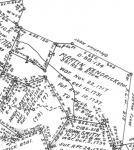 On 22 November 1717, Martin Kendig (Kendick, Kendrick, Cundigg) and John Herr (Heer) were warranted 5,000 acres in Lancaster County by the Proprietaries of Pennsylvania.[1] On 10 October 1731, John Taylor surveyed 381 acres, 50 acres of which had been surveyed on 20 June 1719.[2] This property was adjacent to tracts of Christian Prennaman, Henry… read more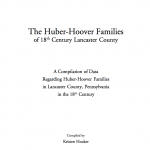 I've just finished indexing my latest writing endeavor "The Huber-Hoover Families of 18th Century Lancaster County." This book is a compilation of raw data I've gathered and includes deed abstracts, warrant and patent lists, and last will & testament transcriptions for Hoovers across Lancaster County, Pennsylvania in records from 1729 through 1800. It represents a… read more
Last time, in Part 2 I provided a long list of information pertaining to Ulrich Hoover in a chronology. As you read through it, however, you'll notice a number differences between this information and what we learned about Ulrich from his estate records. Additionally, you can see several inconsistencies between the individual pieces of data…. read more
While I was researching Ulrich Hoover of York & Adams Counties, I decided to put together a timeline that included all the information I'd found for "Ulrich Huber" in York County & the surrounding area for the late 1700s. I wanted to see what I had, whether or not it made sense, and whether or… read more
Ulrich Hoover of York and Adams counties became of interest to me because of a possible connection to Christian Hoover of Heidelberg Township, York County. Ulrich had come up in the data I've been compiling on Hoovers of Pennsylvania and Maryland, but since I've been focusing on Lancaster County Hoovers, I hadn't researched him. Most… read more
I've been researching Ulrich Huber of Adams and York County recently. Here's a transcript of the petition to partition his York County property put forth by his son Henry Hoover.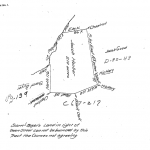 On 22 November 1717, Martin Kendig (Kendick, Kendrick, Cundigg) and John Herr (Heer) were warranted 5,000 acres in Lancaster County by the Proprietaries of Pennsylvania.[1] They, in turn, transferred this land to their fellow immigrants. John Taylor surveyed 210 acres from this warrant for Jacob Huber on either 24 or 28th January 1733.[2] The survey… read more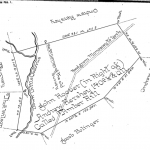 In reviewing some information on John Hoover (Ulrich1), I came across the following: "May also be the John [Hoover] who had 50 acres surveyed on May 10, 1768, in York Co. called "Timber Hill."[1] It sounded familiar, so I looked it up. The tract was warranted to Andrew Hershey on 24 October 1738 and patented… read more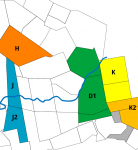 If you've been following my Huber/Hoover research, you may have seen me refer to some of them as "Byerland Hoovers." Who were they? And why am I calling them the "Byerland Hoovers?" The Byerland Hoovers were the earliest Hoover families to appear in the Lancaster County tax records. They were all Mennonites who settled in… read more