This is a transcription of the John Jacob Hoober's patent for 210 acres situate on the southside of Pequea Creek in present-day Providence Township. Jacob Hoober received a warrant for the tract 24 Jan 1733. It was surveyed to him on 28 Jan 1733.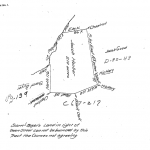 After a warrant is issued, the Surveyor General directed one of their surveyors to make and return a survey of the requested tract. Jacob Hoober's warrant was issued 24 Jan 1733. On 28 Jan 1733 a survey was made of 210 acres in present-day Providence Township, then part of Martic Township. This is Jacob Hoober's survey.
Having written about how to use the online land records at the Pennsylvania State Archives, it's only fair that I provide examples of what each document entails. This example features the 1733 land warrant of Jacob Hoober for 210 acres on Pequea Creek. This piece of property sits south of Pequea Creek in present-day Providence Township.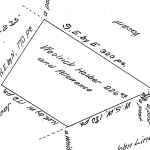 Last week's article for the "Along the Pequea" series, traced the land transactions of Hans Line's property. This week, we'll follow the transactions of his neighbor, Ulrich Huber.
Jacob Hoover of Woodberry Township, Bedford County, Pennsylvania wrote his last will & testament on 10 Nov 1800. It was proved 2 Mar 1801.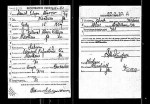 In honor of our nation's birthday, I thought I'd highlight a relative who'd served his country during wartime. Since I shared Daniel's gravestone photo last week, I thought I'd share his WWI draft card today. Although the image is small, you can see that his full name was Daniel Edgar Hoover and he lived in… read more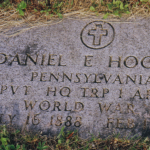 A gravestone photo of Daniel Edgar Hoover, only son of Reuben and Emma (Coleburn) Hoover, of Karthuas, Clearfield County, Pennsylvania, was born 16 Jul 1887 and died 11 Feb 1966. He was buried in the Oak Hill Cemetery in Oak Hill, Karthaus Township, Clearfield County, Pennsylvania. Daniel served during World World I.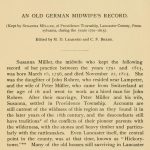 Update (7/4/2011): I've added the possible names of children and their parents where I have information. As you can see there's more to add. If you have information that fits, please send me an email. Thanks Yesterday, I was poking around online trying to find Huber information when I came across the most wonderful article…. read more
I've been going through Lancaster County deeds for Hoovers, taking notes and trying to attribute them to Hoover family members. Sometimes I can easily figure out who the deed belongs to; sometimes I just don't have enough information. One deed I've been working on helped me catch an error in my database and straighten out a family line. All by following the inheritance of land from one generation to the next.
I've recently blogged about my quest to find out more about Christian Hoover of Heidelberg Township, York County, Pennsylvania and the brothers he named in his 1771 last will and testament: Jacob, Ulrich and Henry. Looking for more information, I requested his widow's estate file. And now I'm all out of ideas…