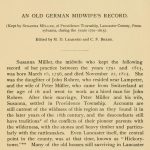 Update (7/4/2011): I've added the possible names of children and their parents where I have information. As you can see there's more to add. If you have information that fits, please send me an email. Thanks Yesterday, I was poking around online trying to find Huber information when I came across the most wonderful article…. read more
I've been going through Lancaster County deeds for Hoovers, taking notes and trying to attribute them to Hoover family members. Sometimes I can easily figure out who the deed belongs to; sometimes I just don't have enough information. One deed I've been working on helped me catch an error in my database and straighten out a family line. All by following the inheritance of land from one generation to the next.
I've recently blogged about my quest to find out more about Christian Hoover of Heidelberg Township, York County, Pennsylvania and the brothers he named in his 1771 last will and testament: Jacob, Ulrich and Henry. Looking for more information, I requested his widow's estate file. And now I'm all out of ideas…
Daniel Hoover of Conestoga Township, Lancaster County, Pennsylvania was born ca 1783 and died sometime between 24 Sep 1850 and 17 Nov 1851. He was a carpenter and apparently had a large family that included 15 children. Here is what I learned about his family from deed records.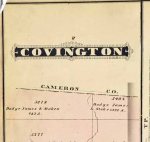 One of the difficulties in researching Christian Hoover has been trying to find the location of his property. Through family stories, I know he lived in Clearfield County—either Covington or Karthaus townships. But where was it really?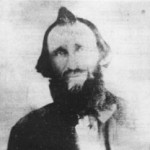 Christian Hoover, the man who inspired all my Hoover family research.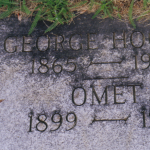 George Hoover, youngest son of Christian and Caroline (Kinnard) Hoover, was born 14 Apr 1865 in Jefferson County, Pennsylvania, and died 19 Jan 1930 in Sterling Run, Lumber Township, Cameron County, Pennsylvania of a stroke. He married about 1898 Anna Meade. The couple had one child, a son, Omet who was born in Jan 1899… read more
Christian Hoover of Heidelberg Township, York County, Pennsylvania died in 1771. An inventory was taken on his goods and chattels on 19 Mar 1771. Here is a transcript: "An Inventory of the Goods and Chattles of Christian Hoover late of Heidlebergh Township Deceased Taken this 19th Day of March 1771 and appraised by John Shank… read more
I've been curious about Christian Hoover of Heidelberg Township for a while. His will names his brothers: Jacob, Ulrich and Henry, but doesn't provide any more information than their names. I'd really like to find more information on them to flesh out this family.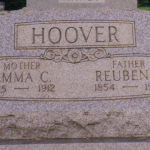 Reuben Hart Hoover, eldest son of Christian and Caroline (Kinnard) Hoover was born in 1854, probably in Jefferson County, Pennsylvania, and died 5 Mar 1900 of consumption. He married about 1875 Emma Clara Coleburn, born Mar 1845 and died 12 Sep 1912. They are both buried in Oak Hill Cemetery, Karthaus Township, Clearfield County, Pennsylvania…. read more