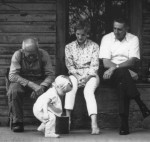 Here's a photo of 3 generations: Clyde Hoover, his son-in-law, grand-daughter-in-law, and great grand-daughter Kris Hocker (yeah, that's me!), circa 1971.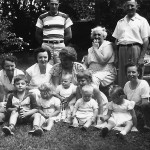 A Hocker family photo taken of the Will and Isabella (Smith) Hocker family at their home on 17 Aug 1950. It includes all their children and grandchildren.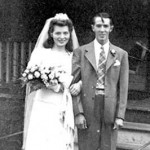 Today's Fearless Females entry is about how my parents, and grandparents met and married.
Today's Fearless Females entry is about the marriages of my great grandparents: Elmer and Lillian (Snyder) Greulich, Edwin and Mary (Waage) Wieder, Will and Isabella (Smith) Hocker, and Clyde and Nora (Houdeshell) Hoover.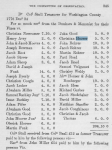 I was recently going through the stacks of materials distributed around my "office" when I came across a document I'd ordered from PERSI—"Proceedings of the Committee of Observation for Elizabeth Township District [Washington County]" from the Maryland Historical Magazine, Volume 13. I had ordered this because copies I had made at the Pennsylvania State Library… read more
I received an email a while back from a woman who was looking for information on a Jacob Hoover of Maryland and wondered if we were related. The short answer is "Yes," but not as initially thought.
Recently, I've started a document to record the facts I've been compiling for each Hoover—especially the land transactions—and became frustrated when I couldn't locate any Strasburg Township property for Henry Huber, son of Ulrich Huber, even though other deeds named it as his place of residence. Today, I finally found it!
There were two Henry Hubers living near Pequea and Beaver Creeks in the Martic/Conestoga/Strasburg/Lampeter township area in the mid-to-late 1700s. This post is about the family of the Henry Huber who married Catharine Good, daughter of Jacob Good.
In genealogical research we are told to "research the relatives, neighbors, and associates" of our family member in order to learn more about them and hopefully take our family line back another generation. However, when does an apparent series of coincidences become a connection?
Jacob and Anna Maria (___) Hoover both died in German Township, Fayette County, Pennsylvania in 1800 and 1808, respectively. Their children can not be found in the township after 1816. Where did they go?