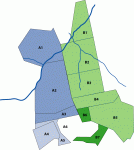 So, just how many Henry Hoobers were there in the Conestoga (now Pequea)/Martic (now Providence)/Lampter/Strasburg township area of Lancaster County, Pennsylvania? If you'd asked me that question yesterday, I'd have said one. Now today, I'm not so sure… According to the township warrantee maps, there were 5 tracts either warranted to or patented to Henry… read more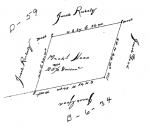 For some reason I got stuck on John Hoover today when I was deciding where to start on my Huber/Hoover work. Which John Hoover, you ask? I was hoping to find information on John Hoover (Huber), son of Hans Ulrich (Woolerick) Huber of Conestoga Township, Lancaster County, Pennsylvania. I don't have much information on him…. read more
Have I mentioned I love deeds? Well, even if I have, it bears repeating. I LOVE deeds! They can be a treasure trove of genealogical information.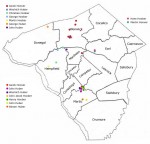 I'm in the middle project on the Huber/Hoover family, specifically looking at Lancaster County and Fayette County, Pennsylvania and Washington County, Maryland—with the likelihood of branching out to additional areas like Somerset County, Bedford County, Franklin County, Dauphin County… A big undertaking! I've started by looking at deeds and land warrants for Lancaster County. Being… read more
I've finally added the revised family pages for George Hoover (ca 1766-1847) of Fayette County, son of Andrew and Catharine (___) Hoover and George Hoover (ca 1735/40-1813) of Armstrong county, son of Michael Hoover. These pages—especially George Hoover of Armstrong County—include some substantial changes from their prior versions, so descendants of  Christian Hoover, William Matthias… read more
I've recently discovered that George Hoover, son of Andrew and Catharine (___) Hoover, of Fayette County lived in Union Township his whole life. Therefore, he can not be the George Hoover who owned property in Westmoreland County from 1779 through 1799 and died in Armstrong County in 1813. How Did We Get Here? Before I… read more
One of the pieces of data I have for Andrew Hoover Jr. has intrigued and perplexed me. During her research in this Hoover family, Luella Schuamburg Hoover was sent a deed from Lancaster County, Pennsylvania in which Andrew named Yost Herbaugh as his attorney to receive from Catherine Liebrich, relict of Nicholas Liebrich, late of… read more
If you recall from my post Hoover Families in Licking County, Ohio I was especially interested in John and Barbara Hoover of Franklin and Newark Townships. John was of interest to me because the census information indicated that he was of the appropriate age to be my John2 Hoover (Andrew1). A review of the Revolutionary… read more
A list of Hubers and Hoovers from the Lancaster County Deed Books (1729—1893), covering first names starting with R—W.
A list of Huber & Hoover grantors from the Lancaster County Deeds Books (1729-1893), covering first names M—P.