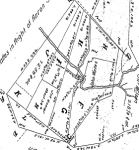 John2 Hoover (Andrew1) was born about 1744, probably in Ellerstadt, Germany, the eldest son of Andrew Hoover and his wife Catharine. John was alive at the time his father's estate was settled. He likely died sometime after 2 Nov 1811 when a deed recording his sale of some Union Township land to James Fletcher was… read more
Andreas "Andrew" Hoover (Huber, Hubner), son of Gregor Jonas and Anna Maria (Kruetzer) Huber, was born 1 Jan 1723 in Ellerstadt, Bad Dürkheim, Germany and baptized 7 Feb 1723/5 in Ellerstadt, sponsored by Andreas Hartman. [1],[2] He died sometime between 25 May and 24 Jul 1784 in Union Township, Fayette County, Pennsylvania.[3] Andrew married Catharine… read more
If you search the web, read published genealogies or the official biography of President Herbert Hoover, everywhere you'll find that his ancestor was from Ellerstadt, Palatinate, Germany. But did you know that he was initially identified as the Andreas Huber from Trippstadt, Palatinate, Germany? Or that he might actually be from Ittlingen, landkreis Heilbronn, Baden, Germany? In this article, I'll examine the past and present thought on this Andreas Huber's German origins and the impact it has on identifying the origins of my ancestor Andreas Huber.
I've created a personal map on Google Maps of some of my research places. I find it very helpful to see the locations I've found in my research on a map. It gives me a better idea of the distances between places and also shows me the surrounding villages/town. Proximity can make a good case… read more
A list of Huber immigrants to Pennsylvania between 1728 and 1768 taken from the Pennsylvania Archives, Series II, Volume XVII, "Names of Foreigners who took the Oath of Allegiance, 1727-1775."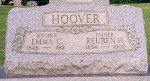 Reuben Hart Hoover, son of Christian and Caroline (Kinnard) Hoover, was born in 1854, probably in Jefferson County, Pennsylvania and died 5 Mar 1900 of consumption. He was buried in Oak Hill Cemetery in Karthaus Township, Clearfield County, Pennsylvania. He married Emma Clara Coleburn, daughter of Richard and Elizabeth (___) Coleburn about 1875, most likely… read more
I've recently been researching the Hoover families of Licking County, Ohio. If you've been following the Andrew Hoover family data that I've been putting up, you'll have noticed that Henry2 Hoover (Andrew1) moved to Johnstown, Licking County, Ohio from Greene Township, Greene County, Pennsylvania (prior to that Wharton Township, Fayette County, Pennsylvania) sometime between the… read more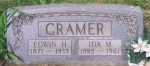 Edwin H. (also Edward) CRAMER, son of Lot Irvin and Lucy Dale (GAULT) CRAMER, was born Jan 1872 and died in 1933. In Jul 1904, he married Ida Mae HOOVER, daughter of Samuel Thomas and Victoria (WALKER) HOOVER. Ida was born May 1885 and died in 1961. The couple was buried together in the Advent… read more
Clarence G. HOOVER, son of Samuel Thomas and Victoria (WALKER) HOOVER, was born 24 Mar 1895 in Pine Glen, Burnside Township, Centre County, Pennsylvania and died 1 Apr 1902, also in Pine Glen. He was buried in Advent Cemetery.
Samuel Thomas HOOVER, son of Christian and Caroline (KINNARD) HOOVER, was born 18 Feb 1857, possibly in Jefferson County, Pennsylvania and died 18 Aug 1930 in Pine Glen, Burnside Township, Centre County, Pennsylvania. He married sometime between Feb and Sep 1879 Victoria WALKER, daughter of Jacob C. and Mary (ECKLEY) WALKER. She was born 9… read more