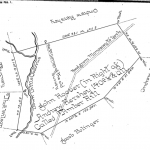 In reviewing some information on John Hoover (Ulrich1), I came across the following: "May also be the John [Hoover] who had 50 acres surveyed on May 10, 1768, in York Co. called "Timber Hill."[1] It sounded familiar, so I looked it up. The tract was warranted to Andrew Hershey on 24 October 1738 and patented… read more
There's something so ironic about Adam Hocker's 1810 census enumeration from Derry Township, Dauphin County, Pennsylvania. If I'm identifying the people correctly, the Christopher Ernst listed just after him is a relation by marriage to my Hoover ancestors who'd lived in Derry Township about 50 years earlier. Christopher Ernst was the son of Johan Wilhelm… read more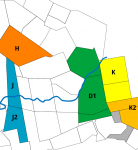 If you've been following my Huber/Hoover research, you may have seen me refer to some of them as "Byerland Hoovers." Who were they? And why am I calling them the "Byerland Hoovers?" The Byerland Hoovers were the earliest Hoover families to appear in the Lancaster County tax records. They were all Mennonites who settled in… read more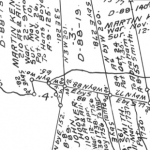 Jacob Huber was born circa 1698, and likely immigrated in 1717.[1] He appears on tax records for Conestoga Township, Chester County from 1718 through 1725, settling on Pequea Creek on a tract of land in Conestoga and Martic Townships (now Pequea and Providence) which adjoined Ulrich Huber's land. He warranted 105 acres.[2] It was surveyed… read more
On 22 November 1717, the Proprietaries of Pennsylvania warranted 5,000 acres to Martin Kendig and John Herr in then Conestoga, Chester County.[1]  I. Taylor surveyed 210 acres on the Pequea, adjoining Widow Hoober, Ulrich Hoober, and John Ffarrer, part of the 5,000 acres warranted to Martin Kendig and John Heer, to Hans Boyer on 10… read more
I was recently contacted by a reader who found one of my posts on Christian Hoover of Heidelberg Township, York County, Pennsylvania. She thought the information was interesting, but didn't see how it was pertinent because it directly conflicted information she believed to be true. Following up, this is what I learned.
This is a transcription of the John Jacob Hoober's patent for 210 acres situate on the southside of Pequea Creek in present-day Providence Township. Jacob Hoober received a warrant for the tract 24 Jan 1733. It was surveyed to him on 28 Jan 1733.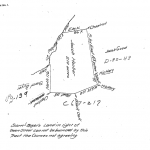 After a warrant is issued, the Surveyor General directed one of their surveyors to make and return a survey of the requested tract. Jacob Hoober's warrant was issued 24 Jan 1733. On 28 Jan 1733 a survey was made of 210 acres in present-day Providence Township, then part of Martic Township. This is Jacob Hoober's survey.
Having written about how to use the online land records at the Pennsylvania State Archives, it's only fair that I provide examples of what each document entails. This example features the 1733 land warrant of Jacob Hoober for 210 acres on Pequea Creek. This piece of property sits south of Pequea Creek in present-day Providence Township.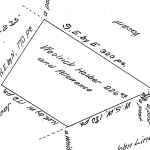 Last week's article for the "Along the Pequea" series, traced the land transactions of Hans Line's property. This week, we'll follow the transactions of his neighbor, Ulrich Huber.