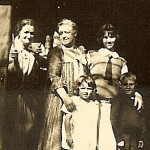 A photo taken at the Hocker hunting camp in Perry County, Pennsylvania circa 1924. I'm not completely certain of the folks in the photo, but I think it's—Isabella (Smith) Hocker, Lillian (Leedy) Hocker, unknown teenager [possibly Lillian or Ethel Allen], Anna Hocker, William Hocker, Bonnie Hocker and Betty Jean Hocker.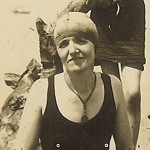 In honor of summer a family photo at the beach.
Prior to her 1914 marriage, my great grandmother, Isabella Smith, worked for the telephone company in Harrisburg. This photo was labelled the "telephone girls."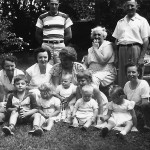 A Hocker family photo taken of the Will and Isabella (Smith) Hocker family at their home on 17 Aug 1950. It includes all their children and grandchildren.
Today's Fearless Females entry is about the marriages of my great grandparents: Elmer and Lillian (Snyder) Greulich, Edwin and Mary (Waage) Wieder, Will and Isabella (Smith) Hocker, and Clyde and Nora (Houdeshell) Hoover.
Jacob and Anna Maria (___) Hoover both died in German Township, Fayette County, Pennsylvania in 1800 and 1808, respectively. Their children can not be found in the township after 1816. Where did they go?
I've recently been reading An Echo in the Bone by Diana Gabaldon, the latest in her series which started with Outlander. If you haven't read the series, one of its main characters is James Alexander Malcolm MacKenzie Fraser, a dashing young Scottish highlander. Once I'd managed to pull my head out of the book and… read more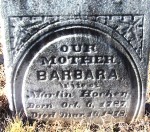 Barbara (SMITH) HOCKER, wife of Martin HOCKER, was born 6 Oct 1787 and died 16 Mar 1878 in Derry Township, Dauphin County, Pennsylvania. She was buried in the Zion Evangelical Lutheran Church cemetery in Hummelstown. She married Martin HOCKER in 1809.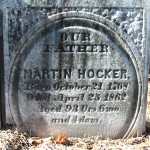 Martin HOCKER, son of Johann "Hans" Adam HACKER and Maria Elisabetha WEIDMAN, was born 21 Oct 1768 in Lancaster County, Pennsylvania and died 25 Apr 1862 in Derry Township, Dauphin County, Pennsylvania, aged 93 years, 6 months and 4 days. He was buried in the Zion Evangelical Lutheran Church cemetery in Hummelstown, Derry Township, Dauphin… read more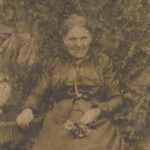 Peter3 Purvis Bonnington (William2, Robert1) was born ca 1844 in Galashiels, Selkirk, Scotland, son of William and Margaret (Purves/Fairborn) Bonnington.[1] Peter died in Mayburn, Loanhead, Lasswade Parish, Edinburgh, Scotland, on 16 Sep 1891; he was 47.[2] He was enumerated with his family on the 1851 census for Galashiels, Selkirk, Scotland, at age 8; the 1861… read more