Today's Fearless Females entry is about the marriages of my great grandparents: Elmer and Lillian (Snyder) Greulich, Edwin and Mary (Waage) Wieder, Will and Isabella (Smith) Hocker, and Clyde and Nora (Houdeshell) Hoover.
157 years ago Edward J. Witmer, son of John and Rachael (Jones) Witmer, married Lydia Amanda Kline, daughter of Philip and Lydia (Markly) Kline.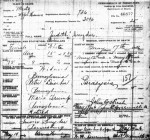 I just recently got the death certificate for the last of my direct ancestors who died after 1906—the year Pennsylvania started registering births and deaths at the state level, as opposed to the county level. Her name was Judith (Deysher) Snyder.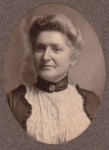 Saraphine K. Witmer, daughter of Edward and Lydia Amanda (Kline) Witmer, was born 20 Oct 1861 in Pennsburg and died 4 Aug 1938 in Lansdale, Montgomery county, Pennsylvania. Photo probably taken in circa the 1890s.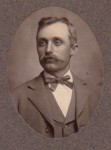 Henry D. Snyder, son of Joseph and Judith (Deysher) Snyder, was born 3 Mar 1859 and died 30 Sep 1931 in Montgomery county, Pennsylvania. He married Saraphine K. Witmer about 1879. Photo probably taken circa the 1890s.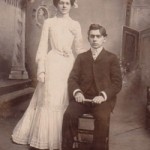 Elmer Calvin Greulich, son of Charles Philipp and Caroline K. (Wolf) Greulich, married Lillian Witmer Snyder, daughter of Henry D. and Saraphine K. (Witmer) Snyder, on 21 Sep 1901 in East Greensville, Montgomery county, Pennsylvania.