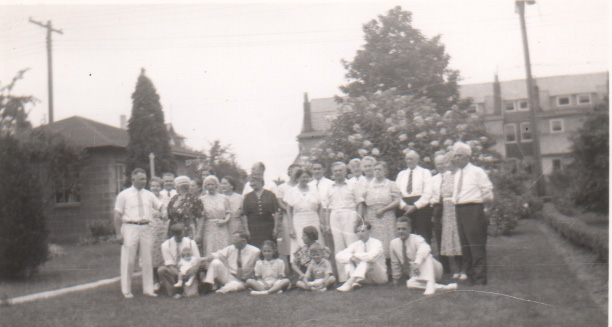 Standing, L to R:\
Clarence Franklin Greulich, Marie (Letterhouse) Dise, Linwood Greulich (hidden), Kate Amanda (Weil) Greulich, Carrie A. (Greulich) Letterhouse (partly hidden), Alda (Greulich) Broadwater, Linwood's Anna (Hunsberger) Greulich (hidden), Anna E. (Greulich) Keller, Chester's Annie M. (Scholl) Greulich, Ralph Keller(?), Frances A. (Schantz) Greulich, Loretta C. (Hill) Keller(?), Theodore Greulich, Elmer's Lillie Witmer (Snyder) Greulich, Michael Francis Donnelly, Elmer Calvin Greulich, Minnie L. (Greulich) Donnelly, Flora (Greulich) Sterner, Albert Sterner, John Wieder, Katharine Jane (Greulich) Wieder, Charles Ambrose Greulich.
Seated. L to R:
Wilmer N. Dise, Marjorie Dise(?), Lewis Keller, Leslie Keller(?), Edna M. (Moore) Greulich, Carl Greulich(?), Bill Wieder, Wilmer Greulich (the new addition).
I believe this identification to be correct. Bill Wieder (seated second from right) sent me his best estimate on who everyone was. There are 3~4 generations of Greulichs in this photo.