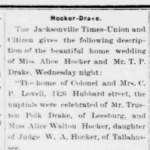 Newspapers are a wonderful resource for finding not only the genealogical date, but the also the details that make a person's life colorful. This week's find is a marriage announcement for Trusten P. Drake and Alice Hocker of Leesburg, Florda.
It's always great to find an photo or image of an ancestor or relative. This one was an unexpected find… and delight!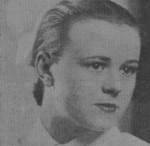 My great aunt Helen (Wieder) Kelly passed away Saturday, 16 July 2011, at age 94 years. She was the youngest daughter of Edwin J. and Mary Catharine (Waage) Wieder of Pennsburg, Pennsylvania.