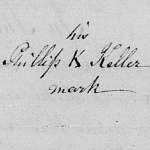 In researching Ulrich Huber of Adams and York counties, I've been looking for Philip Keller, husband of Ulrich's daughter Magdalena. All I really knew about the couple was that Magdalena had died prior to her father's death and that she and Philip had children: Eve, Catharine, Elisabeth and John.[1] Today, I came across a possible… read more
In genealogical research we are told to "research the relatives, neighbors, and associates" of our family member in order to learn more about them and hopefully take our family line back another generation. However, when does an apparent series of coincidences become a connection?
If you search the web, read published genealogies or the official biography of President Herbert Hoover, everywhere you'll find that his ancestor was from Ellerstadt, Palatinate, Germany. But did you know that he was initially identified as the Andreas Huber from Trippstadt, Palatinate, Germany? Or that he might actually be from Ittlingen, landkreis Heilbronn, Baden, Germany? In this article, I'll examine the past and present thought on this Andreas Huber's German origins and the impact it has on identifying the origins of my ancestor Andreas Huber.
If you're researching your family history, deeds can be an excellent source of information, placing a family member at a specific place at a specific time. They can sometimes provide clues to where a person came from or went to. And, if you're lucky, they can also provide information on family relationships.
Here is a partial index to some deeds for HOOVERs in old Frederic county, Maryland in the late 1700s.
In researching my HOOVER family line, I've always hit a brick wall at my great-great-great-grandfather Christian HOOVER. He seemed to appear from almost from nowhere. Family history regarding Christian and Caroline (Kinnard) Hoover was vague and sometimes contradictory. Here's what the older family members recall about the Hoover family, specifically regarding Christian: Christian was one… read more