I found a deed today that I believe relates to Henry Hoover of Strasburg Township who died before 18 Dec 1833, leaving heirs in Franklin County, Pennsylvania. According to one deed, Henry had eight brothers and sisters. I was able to determine four of them, but I am still looking for the others. I may have found three of them.
Here's a new addition to my series "Along the Pequea," tracing land ownership of the earliest settled tracts in Lancaster County. This entry features the John Smith tract. Some of his neighbors included: Jacob Behm, Hugh Patten, John Hoover, Jacob Hoover, John Line, and Jacob Gochenour.
I suppose I shouldn't by surprised by it. And yet… When I started researching Mennonite families in Lancaster County, it wasn't because I thought I was related to them. I started researching the Hoovers of Lancaster, hoping that I'd find some clue, some information, some connection that would lead me to more information on my… read more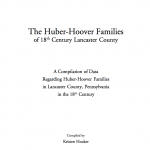 I've just finished indexing my latest writing endeavor "The Huber-Hoover Families of 18th Century Lancaster County." This book is a compilation of raw data I've gathered and includes deed abstracts, warrant and patent lists, and last will & testament transcriptions for Hoovers across Lancaster County, Pennsylvania in records from 1729 through 1800. It represents a… read more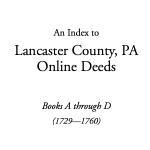 I've finally finished formatting my newest publication, An Index to Lancaster County, Pennsylvania Online Deeds for deed books A through D. Now I need to decide how to publish it. I wonder which format would work best… Any ideas?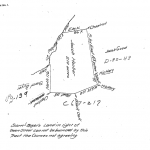 On 22 November 1717, Martin Kendig (Kendick, Kendrick, Cundigg) and John Herr (Heer) were warranted 5,000 acres in Lancaster County by the Proprietaries of Pennsylvania.[1] They, in turn, transferred this land to their fellow immigrants. John Taylor surveyed 210 acres from this warrant for Jacob Huber on either 24 or 28th January 1733.[2] The survey… read more
If you're familiar with William O. Wingeard's A German-American Hacker-Hocker Genealogy, you might have read the chapter on George Hocker (Frederick4, Johan Adam3, Christoph2, Stephen1). In it Bill freely admits that he had trouble continuing the family line from George and his wife Elizabeth. I'm not afraid to admit that he's causing me some consternation,… read more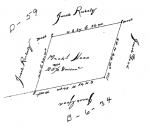 In my last post, "From Deed to Land Warrant and Back Again," I found that John Huber had patented 25 acres in Conestoga in right of Michael Hess and surveyed a 110-acre tract that he had purchased from Jacob Eshleman. My next step was to determine what happened to this tract. Did John sell it… read more
Census records are an invaluable source of information for family historians and genealogists. They are a go-to, record-of-choice for me when I start new research. However, they only occur every ten years. That leaves a lot of time uncovered. Even if you're lucky and your research location includes state census records, there are still going… read more
Have you ever had the experience of researching the information you found in a family genealogy book and discovering that it was wrong?